Islamic State Says It Has Executed a Japanese Hostage. And Now It Has New Demands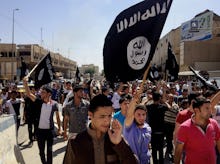 Haruna Yukawa, one of two Japanese hostages being held prisoner by the Islamic State militant group, has reportedly been executed, according to an unverified video.
Islamic State-linked Twitter accounts have distributed a video showing Kenji Goto Jogo, Yukawa's fellow hostage, stating that Yukawa had been beheaded and that he would die next if the terror group's demands are not met. Islamic State had demanded $200 million from the Japanese government in exchange for the two journalists, but according to Jogo's statement, the group now demands the release of would-be suicide bomber Sajida al-Rishawi in exchange for his life.
"You have seen the photo of my cellmate Haruna slaughtered in the land of the Islamic caliphate," the man claiming to be Jogo says in the tape. "You were warned. You were given a deadline, and so my captors acted upon their words." Islamic State's deadline for the $200 million ransom passed on Friday. "[Prime Minister Shinzo] Abe, you killed Haruna. You did not take the threat of my captors seriously and you did not act within the 72 hours."
It's not like the militant group needed the money. The Islamic State, which was disowned by al-Qaida in February of last year for being too extreme, robbed Mosul's central bank in June, making off with as much as $425 million. In comparison, according to Money Jihad data, the Taliban reportedly has a budget of $70 to $400 million annually.
Al-Rishawi is believed to have taken part in the 2005 suicide bombings in Amman, Jordan, but survived when her explosive belt failed to detonate. She is the widow of Ali Hussein Ali al-Shamari, who killed 38 people during a wedding party in a suicide bombing in an Amman hotel.
Japan's government has condemned the latest demands. "This is an outrageous and unacceptable act," the prime minister stated on TV. "I again strongly demand the prompt release of Mr. Kenji Goto unharmed."
Before the video's release, Jogo's mother made an emotional televised plea for her son's release: "My son Kenji is not an enemy of the people of the Islamic faith. I can only pray as a mother for his release," Junko Ishido said. "If I could offer my life, I would plead that my son be released. It would be a small sacrifice on my part."