Sarah Palin: I'm "Seriously Interested" in Running for President in 2016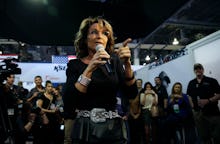 Grab your popcorn, folks: The group of people who have expressed interest in becoming the most powerful person on Earth just got a lot more interesting.
Sarah Palin, former half-term governor of Alaska and the Republican Party's 2008 nominee for vice president, has told the Washington Post that she is "seriously interested" in running for the White House in 2016.
"You can absolutely say that I am seriously interested," Palin told Robert Costa when asked to clarify comments she made to ABC News on Thursday in Las Vegas (while serving wild boar chili to the homeless, naturally). Palin's reaffirmed her interest in seeking the presidency only hours before she was scheduled to address the Iowa Freedom Summit, a gathering of conservative activists hosted by anti-immigration hardliner Rep. Steve King.
"It is a significant step, of course, for anyone to publicly announce that they're interested," Palin said. "Who wouldn't be interested? Who wouldn't be interested when they have been blessed with opportunities to speak about what is important to this country and for this country?" However, Palin held back on announcing the formation of an exploratory committee or any kind of nationwide "listening tour" common to other pre-candidates, which puts her declaration of semi-intent somewhere between those of Mitt Romney and Donald Trump. After all, Palin had previously mulled launching a run in 2012 and later declined.
This brings the number of Republicans who intend to run up to, well, roughly a million. With only 655 days until Election Day 2016, Palin has added her name to a pile including former Florida Gov. Jeb Bush, New Jersey Gov. Chris Christie, South Carolina Sen. Lindsey Graham, Fox News talking head/former Arkansas Gov. Mike Huckabee, Ohio Gov. John Kasich, two-time losing candidate Mitt Romney, Florida Sen. Marco Rubio, Wisconsin Gov. Scott Walker and, as usual, Donald Trump.