A Twitter Troll's Bomb Threat Grounded Two Passenger Flights "For The Lulz"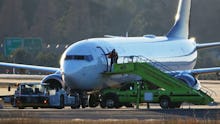 On Saturday, two F-16 fighter jets escorted a pair of passenger flights into Atlanta's Hartsfield-Jackson International Airport after a Twitter troll (aka. the worst kind of person in the world) made a bomb threat that military officials "deemed credible."
CNN reported that Southwest Airlines Flight 2492 from Milwaukee, Wisconsin, and Delta Flight 1156 from Portland, Oregon, were grounded and searched for bombs. Search teams did not find anything unusual or suspicious. 
The threat came from Twitter user @kingZortic (account now suspended), who tweeted to the Delta help account and was able to squeeze out a key detail that made the threats all the more suspicious.
The Atlanta Journal-Constitution reports that @kingZortic also sent private messages to the Southwest Twitter account reading "A bomb was placed on SWA2492. It will be detonated at a random time of my choosing," and "If anything happens to me I'll make sure that more flights are targeted. I strongly suggest you don't try anything stupid."
By 4:45 p.m. passengers were escorted of the Delta flight and by 6 p.m., a team of bomb sniffing dogs had searched the flight thoroughly enough that Britt Johnson, Special Agent In Charge of the Atlanta FBI Field Office, told reporters, "We haven't found anything at this point. Nothing's been found." 
Johnson also added that the FBI will "absolutely be doing everything we can to identify who made the initial threats and track them down."
Though the entire ordeal turned out to be nothing more than a baseless and empty threat, the fact that a single Twitter user was able to cause this much panic with just a few tweets to a help line is certainly disconcerting. As Gawker points out, bragging about crimes on social media is nothing new, nevertheless, scrambling a couple of F-16s through a few 140-character messages doesn't bode well, especially when we're dealing with "terrorists" who have such "light motivations."
KingZortic? More like KingIdiot.
h/t Gawker