A "Crippling and Potentially Historic" Blizzard Is About to Slam the Northeast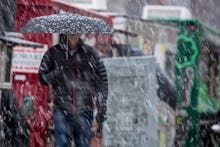 Ready for a snow day, anyone? A major blizzard is converging on New England and may dump as much as a foot or more of snow on major cities like New York City and Boston.
According to the Weather Channel, blizzard watches are in effect from southern New England to New York City with a lesser storm warning issued as far west as metro Philadelphia. The snowfall will peak late Monday night and is expected to reach a foot or more in New York City, with six inches expected in Philadelphia and up to two staggering feet in southern and eastern New England "including Boston, Providence, Rhode Island and Portland, Maine." Boston may see even more.
The Weather Channel is dubbing the storm "potentially historic," and it looks like this time they're not exaggerating. Washington Post weather expert Wes Junker reports that the storm could have "potentially crippling impacts" on some coastal areas.
"This storm could produce a stripe of heavy to possibly crippling snow and strong winds, which would lead to blizzard conditions," Junker reported. "Where the low tracks off the coast, and how quickly it develops, will determine who in in the northeast might be impacted the worst. All the model solutions on Saturday morning would crush the Northeast somewhere between N.J. and New England. It's too early to say exactly who would garner the most snow."
According to ABC News, New York City Mayor Bill de Blasio isn't taking this storm lightly:
Depending on which forecast model is used, Washington Post's Angela Fritz adds that the worst could hit a range from Boston to northern New Jersey or even miss much of the East Coast entirely, making it a "bust for most of the Northeast."
European model forecast (left) vs. NAM forecast (right). Image from weatherbell.com via Washington Post
Here's exactly when the snowfall is projected to hit, via Accuweather:
Snowfall on Saturday afternoon has already left five inches of snow on the ground in New York City, with New Jersey and northern New York reporting up to nine inches of accumulation in some areas. 
The worst is projected for Monday night through Tuesday morning, with winds reaching up to 35 mph throughout New York, Long Island and New England — so maybe put a pin in those travel plans until meteorologists give the all-clear.