Terrorist Attacks Leave 140 Million People Without Power in Pakistan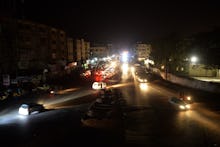 Militant attacks on power grids left an estimated 140 million people without electricity throughout Pakistan this weekend, dealing a tremendous blow to the central government in Islamabad and its efforts to improve the nation's infrastructure.
The New York Times reports that the power first went out on Sunday morning, and only returning to parts of the capital in Islamabad and the major city of Karachi by the evening. Elsewhere, 80% of the nation's population remained electricity free, "including the provincial capitals of Lahore, Peshawar and Quetta." Power was restored to tens of millions of customers throughout Sunday, but many others are still waiting for their electricity to return.
According to the Express Tribune, the attack on the transmission line caused a "cascading effect" that knocked several power plants out at around midnight. Two pumping stations were also taken offline, interrupting water supply to customers in Karachi.
The historic blackout: Throughout the country, media reported scenes like these as buildings, streetlights and traffic signals all went dark:
Energy company K-Electric, which supplies energy to around 2.2 million people in Karachi, described the chain of events that led to the blackout on Twitter:
According to the Guardian, Minister of state for water and power Abid Sher Ali issued an apology and explained that the blackout was caused by a rebel attack on a 220 KV transmission line connecting a privately run power plant to the national power grid in southwestern Baluchistan.
The attackers are believed to be part of the Baloch Republican Army, a separatist group that describes itself as a "secessionist armed organization based in Balochistan" that "conducts conventional and unconventional battles against the occupying forces and mostly operates through guerrilla tactics such as ambush, sabotage and hit and run activities." 
In another post, the BRA claimed to have launched simultaneous bombings that destroyed gas lines and railways, as well as killed two government soldiers and wounded three. On their Twitter, the group claimed a long list of similar attacks.
Why it happened: It's a pretty bad sign that a handful militants could wreak havoc on 140 million Pakistanis, but the government's trouble with utilities goes well beyond dramatic bombings. 
Pakistan's energy infrastructure is notoriously unreliable, prone to large-scale disruptions and frequent shortages. Many citizens are unable to afford the cost of utilities, and illegal hookups remain nearly as common today as they did two decades ago. Pakistan Today reports that even before the attack, an ongoing shortage of furnace oil had reduced power generation capacity to just 7,000mw compared to a demand of 14,000mw.
"We don't have electricity, gas or water," 38-year-old office worker Urooj told CNA in December. "Bosses are complaining about excessive electricity bills when we are not consuming that much power. Where do we go? We are paying proper taxes. We are the citizens of this country but what are we getting in return?"
The national blackout additionally comes just days after a petrol shortage caused hour-long lines for fuel across the country, with 95% of gas stations in Lahore running out of fuel entirely. (The spectacle was particularly embarrassing because gas prices are plummeting worldwide.)
Prime Minister Nawaz Sharif's government has handled the simultaneous energy crises very poorly, leading to increasing popular unrest. According to CNA, an estimated 5 million people have lost their jobs thanks to the closure of hundreds of companies that could not operate due to electrical shortages.
"You have illegal hookups. You have people including large businesses and including even government agencies that ignore their bills," Wilson Center Asia program head Robert Hathaway told Marketplace in 2013. "The generation companies don't have enough money to run, so they produce less power which in turn gives even greater incentive to those who simply don't want to pay their bills."
But he pointed out that "We Americans have been known to also ignore problems if it's going to cost money to fix them."
h/t Sky News