Even Bill Nye the Science Guy Thinks Patriots Coach Bill Belichick Is Full of It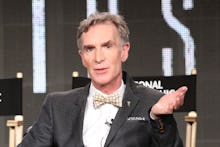 It's been a full week since the AFC Championship game that spawned "Deflategate" and asked whether the New England Patriots deflated their footballs to give themselves an unfair advantage. 
The scandal has reached such a huge scale that multiple press conferences have been held, including one long one on Saturday in which Patriots head coach Bill Belichick argued that the matter has been put to bed through rigorous scientific study.
However, one well known scientist was less than convinced: Bill Nye the Science Guy.
"What he said didn't make any sense," Nye told ABC's Good Morning America on Sunday.
During his length press conference, Belichick tried to explain the science of air pressure and footballs, saying in part:
"Now we all know that air pressure is a function of the atmospheric conditions. It's a function of that. So if there's activity in the ball relative to the rubbing process, I think that explains why, when we gave them to the officials, and the officials put it at, let's say 12.5 (PSI), that once the ball reached its equilibrium state it was closer to 11.5."
However, Nye simply wasn't convinced, saying: "Rubbing the football? I don't think you can change the pressure. To really change the pressure, you need one of these, the inflation needle."
Obviously, as much as Belichick and Patriots quarterback Tom Brady might like, Deflategate doesn't seem to be going away anytime soon, even though there is, you know, the Super Bowl in one week. 
And as for what team Nye is cheering for next Sunday: "I cannot help but say, go Seahawks." 
h/t Bleacher Report