Police Held 'NY Times' Columnist's Son at Gunpoint for the Crime of Being Black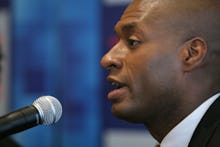 A Yale University police officer raised his gun at an unarmed black man Saturday night while searching for the suspect in a burglary case — and attracted the ire of New York Times columnist Charles M. Blow, whose son happened to be the man in question.
Blow, who has written regularly on racial double standards in policing in America, immediately took to Twitter to vent about the incident, calling it yet more evidence that young black men in America are unfairly discriminated against on a constant basis:
Yale University released a statement on the incident, saying that police had specifically been looking for a "tall, African-American, college-aged student wearing a black jacket and a red and white hat" and that the correct suspect had been arrested and will be charged. They referred to a series of prior robberies that had been recently reported in the Yale Daily News.
Still, it's an aggravating incident after a year filled with innumerable incidents involving police officers and black people, from the Michael Brown shooting in Ferguson, Missouri, to a Miami-area police department being caught using mug shots of black men as target practice. Blow's innocent son had a gun pointed at him, quite possibly as the result of racial profiling, and he has a right to be upset as both a parent and a commentator. There is a scathing column in Yale's future.
Unfortunately, not everyone else has a high-profile family member or friend to speak their case. Blow is lucky enough to have a large audience and a pulpit to share his story, but the vast majority of black Americans who regularly deal with this kind of discrimination are not so lucky and their stories go unheard. 
And that's what 2014 really revealed: Black people across the country are subject to racial discrimination in everything from traffic stops and supposedly random searches to death by police. If it can happen to Blow's son, it can happen to anyone else that "fits the description," and it does much more often than many people realize (or are willing to admit). Not even the Ivy League is a refuge, apparently.
h/t Yahoo News