One Quote Shows Why Republican Control of Congress Has Been a Disaster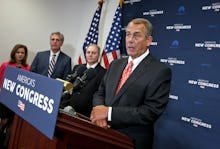 Just a few weeks since gaining control of both houses of Congress for the first time since 2007, Republicans are learning that winning elections is one thing, and governing is quite another. The transition to a fully Republican-run Congress hasn't gone the way many in the GOP had hoped. 
Last Thursday, a frustrated Rep. Charlie Dent (R-Pa.) explained why:
"Week one, we had a Speaker election that didn't go as well as a lot of us would have liked. Week two, we spent a lot of time talking about deporting children, a conversation a lot of us didn't want to have. Week three, we're debating reportable rape and incest — again, not an issue a lot of us wanted to have a conversation about. I just can't wait for week four."
Dent is right. The first few weeks of the 114th Congress have featured a series of intra-party squabbles and self-inflicted wounds as Republicans in the House and Senate struggle to coalesce around a unified agenda. Let's review how we got here:
Week one: The "Speaker election" Dent references took place on Jan. 6, when the new, larger House Republican majority re-elected Speaker John Boehner despite some unusually vocal internal opposition. In all, 25 Republicans voted against Boehner, as three of his colleagues quietly campaigned for his job. Boehner won, but the infighting created exactly the kind of political drama party leaders wanted to avoid. (And it continued after the vote, when a revenge-minded Boehner made headlines by stripping some of his disloyal minions of their prized committee assignments.)
In the weeks before the vote, House Republicans had been grappling with news that the new Majority Whip, Louisiana's Rep. Steve Scalise, had met with and given a speech at a meeting of white supremacist leaders outside New Orleans in 2002. Despite some outside pressure, Boehner decided to keep Scalise as his second deputy, the third most powerful person in the House. 
Week two: The second week of the 114th Congress was less dramatic but potentially more damaging for the party in the long-term. On Jan. 14, House Republicans voted to end a program called DACA that allows young immigrants who were brought into the country illegally by their parents before the age of 16 to defer potential deportation if they meet certain standards like being in school or having graduated college. DACA is extremely popular in the immigrant community, which is probably why 26 Republicans — most of them from minority districts — voted against the amendment. It passed by a slim, 218-209 margin.
Because President Obama would veto any legislation to dismantle the program, the debate was purely symbolic of the Republican party's apparent interest in "deporting children," as Dent put it.
Week three: The House was again in the spotlight late last week, as it tried and failed to vote on a bill that would place a federal ban on most abortions after 20 weeks of pregnancy. Once again, the legislation would have been dead-on-arrival in the Senate, but the bill's authors pushed on, even adding a controversial provision that would have required seeking an exception for rape or incest to bring legal evidence (e.g. a police report) to support their claim. A group of female representatives in the GOP caucus, including a pair who had co-sponsored the original bill, promptly rose up against it. 
By Friday, with more than 100,000 anti-abortion activists gathered in Washington, D.C., for the annual "March for Life," the GOP had to scrap the 20-week bill and pass a lesser, mostly redundant ban on the use of federal money for abortion. And in doing so, they were again left trying to explain away unsolicited efforts to narrowly define rape in the context of the law.  
The week ahead: Republicans will be busy attending to at least two new controversies this week. First up, a decision by Sen. John Cornyn (R-Texas) to remove "Civil Right and Human Rights" from the name of the subcommittee he took over when Republicans assumed their majority in the Senate. Formerly known as the "Subcommittee on the Constitution, Civil Rights and Human Rights," the new title is, simply, "Subcommittee on the Constitution."
"We changed the name because the Constitution covers our most basic rights including civil and human rights," Cornyn spokeswoman Megan Mitchell told the Washington Post. "We will focus on these rights along with other issues that fall under the broader umbrella of the Constitution."
The decision is, more likely, meant to appeal to conservatives who fetishize "the Constitution" and don't think of "Civil" and "Human" rights, at least in a political context, as being much more than laws to provide outsize or unfair support and protection for certain liberal-leaning minority groups.
Also bubbling to the surface this week is a controversy surrounding Boehner's decision to invite Israeli Prime Minister Benjamin Netanyahu to speak before a joint session of Congress without telling the White House. Netanyahu is scheduled to address the House and Senate in March during Israel's own election season, and as U.S. lawmakers debate a new package of sanctions against Iran. If passed, those sanctions — which Netanyahu will push for — would scuttle the administration's nuclear negotiations with Tehran.
Democrats, as one might expect, are enraged. Even a few Republican commentators, including former Reagan speechwriter Peggy Noonan, have conceded that going over Obama's head to invite a foreign head of state to argue, in Congress, against American foreign policy might have been a bridge too far. 
Will Boehner back down and cancel the event? Unlikely. Might Netanyahu decide against coming at all? At this point, it's hard to predict.
What we do know: Republicans are likely to spend another week of the new year dealing with crises and obstacles of their own making.