Hundreds Killed in Boko Haram Attack on Major Nigerian City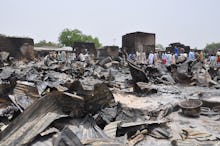 Boko Haram isn't going away without a fight.
It's only going to get worse: Far from being an isolated attack, Boko Haram's latest onslaught is part of a steadily growing trend. As Eurasia Group President Ian Bremmer noted in the aftermath of the deadly attack that left 2,000 dead, the violence perpetrated by Boko Haram insurgents has been intensifying for the last few years:
"The conflict is rapidly intensifying," Nathaniel Allen, Peter M. Lewis and Hilary Matfess, from the Johns Hopkins University School of Advanced International Studies, write in the Washington Post. "Nigerian casualties are now running more than double those in Afghanistan and substantially higher than in Iraq just a few years ago. An estimated 3,120 civilian and military casualties were recorded in Afghanistan last year. In Iraq, 4,207 fatalities were estimated in 2011 in the wake of the surge. The worsening conflict in northern Nigeria already has suffered more casualties this year than the world's most publicized contemporary wars."
As Mic's Sophie Kleeman noted earlier in January, Boko Haram "is now on par with the Islamic State in terms of violent deaths" — the latter was responsible for roughly 5,500 deaths in 2014, which is comparable to the estimates outlined above — but "there isn't nearly as much hand-wringing over the Nigerian terrorist group."
Boko Haram's rise will also reach the polls: The AP notes that the multiple attacks come as U.S. Secretary of State John Kerry visited Lagos, Nigeria's commercial capital nearly 1,000 miles southwest of Maiduguri, to encourage peaceful elections on Feb. 14.
"This will be the largest democratic election on the continent," Kerry said. "Given the stakes, it's absolutely critical that these elections be conducted peacefully — that they are credible, transparent and accountable."
An earlier version of this article cited and linked to the Associated Press, but did not include quotations around the phrase "the insurgents continued scorched-earth attacks on villages some 125 miles to the south in Adamawa state, slitting throats of residents, looting and burning homes and abducting dozens of trapped women and children, according to Vandu Kainu and other escaping survivors." The story has been updated to fully attribute the Associated Press' language.