This Is How We Prepare for Snowstorms Today: Snow Boots, Groceries and Tinder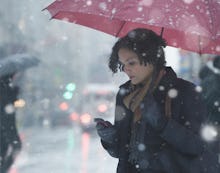 It's become a standard part of our modern storm preparation: Purchase boots, stock up on groceries and take to the Internet looking for sex.
The Northeast's impending blizzard has brought with it a flurry of Internet action, with people looking for a warm body with which to spend the storm. We can't guarantee an uptick in Tinder use yet, but as the snow begins to fall in cities like New York and Boston, it seems plenty of people have had the same idea:
The Tinder blizzard pioneers are only following in the snow-covered footsteps of their Craigslist peers. In what appears to have become an annual tradition, the fall of snow has brought the rise of Craigslist "casual encounters" postings (some links are NSFW). 
The diverse posts, which must be commended for their creative use of snow references, started cropping up on Sunday even before the first flakes fell in New York. Messages range from the raunchy to the (somewhat?) sweet. 
But none would likely be familiar to past generations, who prepared for blizzards by, you know, actually buying things they needed. If our grandparents stocked up on heating oil and Saltines, and our parents stocked up on canned food and milk, we prepare with kale and random Internet connections.
What better way to spend a snowy storm day than with a warm body?