The Most Important Part of Sam Smith's "Stay With Me" Actually Belongs to Tom Petty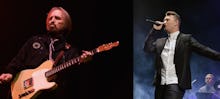 It turns out one of the most beloved songs of the year isn't entirely what it seemed. News broke this week that classic rocker Tom Petty claimed last year that Sam Smith's chart-topping hit, "Stay With Me," was ripped from his 1989 hit, "I Won't Back Down." The shocking thing, though, is that Smith didn't fight it: Though news of the claim surfaced just today, Smith's camp apparently admitted Petty deserved a writing credit after the rocker's team reached out in October.
Upon close listening, the claims hold up — the melodies of the iconic choruses to each song are very alike. According to the UK Sun, a source close to the case said, "It wasn't a deliberate thing, musicians are just inspired by other artists and Sam and his team were quick to hold up their hand when it was officially flagged." Smith amicably obliged and offered Petty and his co-writer, Jeff Lynne of ELO fame, a 12.5% writers' credit on "Stay With Me."
Compare them for yourself. Here's Smith:
And here's Tom Petty's song:
The best part of the biggest song of the year is several decades old. And it's still a hit. The controversial notes have spawned two mega-hits. "I Won't Back Down" spent five weeks at No. 1 on the charts in 1989, and Petty (who has a net worth of $75 million) stands to earn even more money from this settlement. "Stay With Me" has sold more than 3 million copies since its release in May 2014, and it's Smith's most successful single off his debut album, "In the Lonely Hour." 
The settlement is a smart move from Smith's camp, though, especially in light of the ugly fight between Robin Thicke and Marvin Gaye's estate over the similarities between "Blurred Lines" and "Got To Give It Up," which effectively culminated in Thicke's public implosion. Artists suing artists over plagiarism isn't new: Albert Hammond won in a suit against Radiohead's "Creep" in the '90s, and Cat Stevens earned an unprecedented 75% writer's credit in 2003 for the Flaming Lips' "Fight Test." But a high profile case like this could have hindered Smith's meteoric rise.
Even though it's an amicable settlement, this still changes one of the biggest music stories of last year. Why information about the settlement was withheld until now still isn't clear, but it could have something to do with the nomination of "Stay With Me" for the Best Pop Performance Grammy — voting closed just 10 days ago. It seems like more than a coincidence that the similarities were kept under wraps until after the information could have swayed the Grammy board's voting choices. Regardless, Petty stands to win 12.5% of a Grammy — a few decades on, his song is still a hit.