If Someone Can Make a Drone Crash by the White House, What Else Could They Make It Do?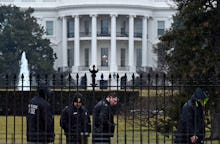 Another intruder has breached the White House security perimeter, except this time it wasn't a jumper.
It was a drone. 
CNN reports that a low-flying 2-foot quadcopter crossed into the south grounds of the White House around 3 a.m. It appeared to be a drone designed for "recreational use." It was initially unclear what the drone was doing there,  but the Secret Service told the New York Times that the robot belonged to a government employee who lost control of the drone while it was flying near 1600 Pennsylvania Ave. White House Press Secretary Josh Earnest confirmed that the device did not appear to be a threat.
The background: While this incident turned out to be nothing more than a government employee's controls gone haywire, this drone landing highlights the potentially disturbing fact that security procedures designed to keep out human intruders can be worthless against drones. Considering the fact that consumer drone models vary in price from under $100 to the thousands of dollars, and are mostly simple to fly, they're perfect surveillance tools.
And just like the recent incident of a mentally ill man jumping the White House fence, evading security and entering the East Room, the Secret Service once again found itself underprepared for a seemingly simple incursion on the White House. Federal Aviation Administration restrictions on drone use and D.C.'s ban on drone ownership seem to have been similarly weak deterrents, boding poorly for so-called "no-drone zones" across the country. 
The FAA has collected about 200 reports of drones flying near other aircraft or near secure facilities between February and November of last year alone, including drones seen operating near the Lincoln Memorial, Reagan National Airport and the U.S. Capitol. On July 3, 2014, a drone pilot was detained and his craft confiscated after a Secret Service patrol spied the craft floating above President's Park.
Why you should care: As Engadget's Jon Fingas notes, "Unless the White House develops a better defense against drones, it will only take a bit of cash and curiosity to create a giant headache for security forces." It would be relatively easy for someone to turn a drone into a homemade flying bomb. A spokeswoman for the Secret Service declined to tell the New York Times whether the White House had any special countermeasures to take down drones that crossed the residence's security perimeter.
In the meantime, you can enjoy the spectacle of the first White House to wage global war using drones getting spooked by the first hobbyist quadcopter to accidentally fly over its fence.