The Real Problem With This Year's Miss Universe Pageant Snub That No One Is Talking About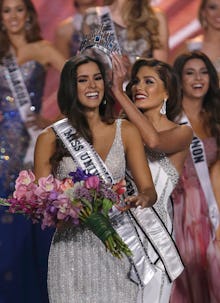 Since 1952, more than 60 women have held the title of Miss Universe. And on Sunday night, revelers gathered in Miami to crown a new titleholder. The annual festival, filled with national costumes, evening gowns, a question round and the ever-controversial swimsuit competition, places a high premium on how glamorous and camera-ready each of the women is, according to narrowly defined and highly politicized standards of what's beautiful.
The limitations of this standard became all the more apparent this year, as a panel of celebrity judges crowned Colombia's Paulina Vega the next Miss Universe. 
Why the chagrin? In the 63-year history of the pageant, the overwhelming majority of the winners have been white or white-passing women. And only one truly dark-skinned woman has won within the past decade.
Crowd-favorite Miss Jamaica, Kaci Fennell, was fourth runner-up, and her snub elicited a chorus of boos. She was also the only contestant in the top 15 hailing from a nation predominately filled with black or African people.
Coincidence or pattern? Viewers certainly were leaning toward the latter. Moments after Miss Colombia's coronation, the dismayed audience chanted "Jamaica, Jamaica" in protest. They were joined by many others on social media, who made tweets about "Miss Jamaica" and #MissJamaicaShouldHaveWon more of a trending topic than the event itself. 
Not surprisingly, there's another layer to the unfolding situation from Sunday's pageant. As some observers astutely pointed out, the confident, engaging and charismatic pageant contestant is a relatively fair-skinned woman amongst people of black or African descent. Indeed, whether hailing from the Philippines or France or Argentina, one of the most astonishing things about the semifinalists was their similarity in shape, features and skin tone.
This isn't to say there were no dark-sinned contestants. Quite the contrary: Plenty of young women, from Miss Bahamas and Miss British Virgin Islands to Miss Ethiopia, Miss Ghana, Miss Kenya and Miss South Africa were initially in the running. Although there's no concrete way to prove that colorism contributed to the result that evening, the situation fits a pattern that's become a lightning rod for discussion, both in fashion and in Hollywood.
In recent weeks, the OWN documentary Light Girls and its earlier-released companion Dark Girls sparked an intense discussion on the ways many black people, particularly women, are expected to conform with mainstream, white ideals of beauty. This standard has harmful effects both within non-white ethnic groups and within the dominant culture, which Miss Universe is very much a part of.
Beauty magazines, runway models and retail catalogs all have been long complicit in only showing a limited idea of what it means to celebrate oneself through fashion. It's what makes skin-lightening creams, eye color-changing procedures, non-curly hairstyles, butt implants and other cosmetic offerings profitable in the United States and various other foreign countries. 
And beauty pageants are far from immune to these racialized politics of beauty.
If anything, the history of the Miss Universe winners reinforces the damaging ideal that women can only be deemed beautiful or worthy of attention if they're white or fair-skinned. Of course, the pattern says more about a wider system of beauty politics than it does about any individual contestant. But what does it say about mainstream standards when the only woman representing a dark-skinned demographic who makes it to the semifinals is herself relatively light-skinned — and even then, doesn't come away with the crown?
One of the last bastions of outdated, white-centric beauty standards, pageants haven't changed all that much since the 1950s. But they're also not going anywhere anytime soon. In the United States alone, the three-hour NBC production was watched by close to 8.8 million viewers in the final half-hour, according to Nielsen estimates, which is why it's still important to pay close attention to the often-rigid standards of race and gender they perpetuate.