The FBI Says It Just Broke Up a Russian Spy Ring in New York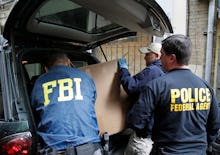 The Federal Bureau of Investigation arrested an accused Russian spy in New York City on Monday for allegedly attempting to collect economic intelligence and recruit others.
The news first broke on the New York FBI's Twitter account:
According to the criminal complaint, three men — Evgeny Buryakov, Igor Sporyshev and Victor Podobnyy — have been charged in connection with Buryakov's service as a covert agent working on behalf of Russia. Buryakov was arrested in the Bronx, but the other two men, who have since left the country, have not been arrested. 
Buryakov is set to appear in federal court later on Monday.
U.S. Attorney Preet Bharara noted that the charges reflect the fact that the United States is still waging an active battle against Russian intelligence operatives. 
"The arrest of Evgeny Buryakov and the charges against him and his co-defendants make clear that — more than two decades after the presumptive end of the Cold War — Russian spies continue to seek to operate in our midst under cover of secrecy," he said.
CNN's Shimon Prokupecz reported that the three men, who were connected with a larger Russian spy ring, were in contact with other members in Moscow: 
BuzzFeed reported that Buryakov entered the country as a private citizen and posed as a banker at a financial firm in New York; the other two men worked as diplomats at the Russian Consulate in New York and at the United Nations.
The full complaint is below: 
This post has been updated.