Two Years Later, Pharrell's "Happy" Is Still Revolutionizing the Music Industry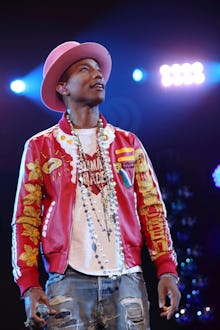 Before Pharrell's "Happy" became a viral sensation leading a global happiness revolution, it was a theme song for an animated film, struggling to get radio play. But now, a little more than a year after its release, "Happy" is still revolutionizing what music can do in the 21st century.
Most remarkably, we're still talking about it. Following its epic 10-week run at the top of Billboard charts and its status as the top-selling digital download in U.K. music history, "Happy" is now up for Best Music Video and Best Pop Song at this years' Grammys, thanks to its re-release on Pharrell's Girl, which is up for Best Album and Best Urban Contemporary Album. 
But the awards are only part of the picture. More than any other pop song in the past five years, Pharrell's "Happy" has truly changed music history. It's a testament to what a truly original sound can do.
It's hard to believe, but "Happy" almost didn't make it out of the gate. "Most station directors told us that it's not a hit," Mimi Valdés, creative director and vice president of Pharrell's label i am OTHER, told Fast Company.
The response seems ludicrous considering its success, but given the current industry climate, it's also understandable. "Happy," unlike a Taylor Swift song, isn't a guaranteed hit. And since the music industry is so strapped for sales, media outlets are far less willing to take risks on songs that don't follow proven musical formulas, as Derek Thompson recently argued in the Atlantic. Coming off a year when no black artists topped the Billboard charts, Pharrell was an unlikely bet for the industry.
But only something that breaks the formula could take off like this. Pharrell's team decided to take the song's marketing into their own hands. They created a video, the world's first 24-hour video, riffing off the Despicable Me 2 scene in which it appears in a totally unconventional way. Instead of just splicing together film clips, Valdés remixed the scene in which the song appears, giving the world a glimpse of Pharrell's goofy personality.
The world responded to that personality. The video's simple, playful, DIY aesthetic prompted at least 1,950 fans to film copycat videos. People from 153 countries recorded versions of the song, which Pharrell's team compiled on an interactive map. That out-of-industry, grassroots feel meant that the song took on its own life. It became an unlikely protest anthem in Ukraine, when a video emerged of the song set to footage of their bloody civil war, and in Tunis, still feeling the effects of the Arab Spring. As Shan Wang wrote for Mic, "'Happy' came into the world apolitical, but it's something more now — it's a song of resilience and resolve under incredible hardship." The song has expanded the definition of what a protest song (and video) can be. And in the process, it became a hit.
Charting new meanings. Though the album's position in the charts is in rapid decline, Pharrell began leading a soundtrack revolution alongside the massive success of Frozen. And now that it's happened, the whole industry is looking to repeat his successes. Soundtracks are becoming bigger musical affairs than ever.
Fifty Shades of Grey unveiled their film's first trailer with a dark, brooding remix of Beyoncé's "Drunk in Love." Guardians of the Galaxy crafted up a soundtrack full of classic artists that made a killing on the charts behind Frozen, which was the second best-selling album of 2014. 
Meanwhile, the Hunger Games franchise tapped rising pop legend Lorde to "curate" the soundtrack for its newest film. The songs she chose from artists like Kanye West, CHVRCHES and Tove Lo all fit the film's tragic, future industrial vibe, but none of them actually appear in the film, save Lorde's "Yellow Flicker Beat," which appears over the closing credits. In this way, the album serves more as a "marketing companion and brand-extender," as Dan DeLuca wrote for the Philadelphia Inquirer. The success of "Happy" came independent of Despicable Me 2, but the film then received mentions throughout Girl's liner notes. Jennifer Lawrence underscored the Hunger Games' "brand extension" aspect when she said in a press conference, "Katniss would be a huge Lorde fan."
It's changed Pharrell's career, too. One unexpected side effect of the song's success is that he's found a whole new niche: It's made him the go-to songwriter for animated films. He's written three songs for the new SpongeBob SquarePants movie and a song for Paddington Bear featuring Gwen Stefani. 
According to Stefani, the two had some serious creative disagreements over the song, but in the end she deferred to his judgement. Later, when Stefani screened the film at her house, "the song came on and he was so right," she said. "He had such a great instinct for these things. He has a way of really channeling feeling."
"Happy" transformed Pharrell's career, changing him from a reliable but largely invisible behind-the-scenes hit-maker into the zaniest guru in the spotlight. But it also revolutionized pretty much the entire music industry and showed that music can still capture a zeitgeist, even as the music industry fades. It's likely we would not be enjoying as many funk and soul pop smashes, like Mark Ronson's "Uptown Funk" and Sam Smith's "I'm Not the Only One," if Pharrell's "Happy" hadn't reminded us that those could be hits too.
"'Happy' has been hard for me to understand," Pharrell once said. "You go back and look at look at the lyrics and you realize that it's so much bigger than you. It's so much bigger than what you intended."
His company may have been wrong to doubt the song, but, a couple years on, he's right about that.