KFC Just Doubled Down on the Infamous Double Down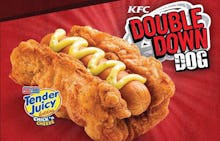 If KFC has taught the American fast-food sector anything, it's that buns are a waste of time. All that space wasted on bread could be better used cramming more deep-fried meat into the same stomach volume.
Thanks to KFC, you can now enjoy a Double Down Dog, an offshoot of the infamous Double Down sandwich (bacon between two piece of chicken). It consists of a thick slab of fried chicken wrapped around a hot dog. This grease-dripping heart attack waiting to happen is only available in limited quantities in the Philippines so far, but may later journey to foreign shores and one day your stomach:
So many conflicting feelings: Kill it with fire (just as soon as I'm done salivating). 
Unfortunately, KFC is smart enough to keep this dish a limited-edition offering while the rest of the Internet alternately stares in hunger or recoils in revulsion. GrubStreet's Chris Rainey writes that just 100 Double Down Dogs are going to be made and sold at 11 locations, 50 on Monday and 50 on Tuesday. That might ultimately be a good thing, judging from this discomforting snapshot taken by one of the first 50 to brave this monstrosity for the first time:
Others have (brace yourself) been even less kind:
The Philippines isn't the first country to get its own version of the Double Down; in October, Korea got a Double Down complete with bacon, while South Africa got one with an extra slice of smoked chicken in 2013. But let's not forget this is an American invention.
Still, it's probably not as gross as hot-dog-stuffed pizza crusts, the Taco Bell waffle taco or countless other chain-restaurant concoctions from our great nation. But I have faith that if and when they bring it back to the States, they'll match American diet proclivities and use a deep-fried corn dog or something instead. 
And then the world will end.