Emma Watson Was Just Cast in Disney's Live-Action 'Beauty and the Beast'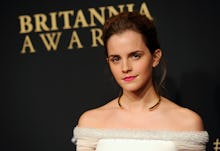 You'd be hard-pressed to find a more perfect casting decision than the one Disney just announced.
In a statement released on Monday, the studio confirmed that Harry Potter actress, feminist and noted perfect human Emma Watson has been cast as Belle in the upcoming live-action remake of Beauty and the Beast. 
Watson announced the news on her Facebook page. "I'm finally able to tell you that I will be playing Belle in Disney's new live-action Beauty and the Beast!" she wrote. "It was such a big part of my growing up, it almost feels surreal that I'll get to dance to 'Be Our Guest' and sing 'Something There.' My 6-year-old self is on the ceiling — heart bursting. Time to start some singing lessons. I can't wait for you to see it."
According to the Hollywood Reporter, the film will be directed by Bill Condon, who helmed the final two installments of the Twilight series, as well as Chicago and Dreamgirls. It will begin production in 2015, with no release date set yet. The Wrap reports that the script will be written by Stephen Chbosky, who worked with Watson in The Perks of Being a Wallflower. 
Her beastly counterpart has yet to be named.
Disney is behind three other recent live-action versions of their classic tales: 2010's Alice in Wonderland, this year's Cinderella and 2016's Jungle Book. 
It's still unclear to what extent Watson's vocal abilities will be utilized, but here's a sampling of what we might expect: