Here's the Insane Amount of Money the Koch Brothers Plan to Spend in 2016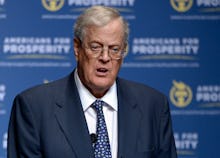 Conservative billionaire brothers Charles and David Koch and their network of private donors are planning to spend nearly $900 million to support select Republican candidates in the 2016 election cycle. That eye-popping sum is more than double their outlay from 2012, a guarantee that the coming cycle will be the most expensive and murky in American history.
The Washington Post reports that officials at Freedom Partners, the nonprofit umbrella organization that directs Koch-managed spending groups, told donors at a winter retreat in Palm Springs, California, that the brothers planned to expand their influence by becoming more deeply involved in the Republican presidential nomination process. In the past, they had mostly withheld their support until after the party picked its candidate.
The Koch Brothers own Koch Industries, a sprawling conglomerate with 2014 revenues in excess of $100 billion, making it the second largest private company in the U.S. The brothers have used that money to advance conservative causes and candidates, in the process becoming poster boys for a new age of American politics increasingly dominated by shadowy corporate interests and the rich individuals behind them.
Why now? 2016 presents a unique opportunity for the Koch network, which grew like a weed out of the Supreme Court's now infamous 2010 Citizens United ruling that gave corporations and nonprofit groups free reign to spend as much as they want on behalf of a chosen candidate or party. Unlike four years ago, the current field includes a series of established, serious hopefuls who might be able to compete in a general election if they had the financial backing to match the likes of former Florida Gov. Jeb Bush or, if he runs, 2012 nominee Mitt Romney during the primary season.
Who benefits? Among the likely candidates who will be dialing up their back-channel efforts to win the Koch nomination are Sens. Rand Paul (R-Ky.), Marco Rubio (R-Fla.) and Ted Cruz (R-Texas), along with Republican governors Scott Walker from Wisconsin and Mike Pence of Indiana. Pence, a former congressman, has been particularly close to the brothers for years. And Koch groups spent heavily against a failed 2012 campaign to recall Walker after he pushed through legislation to dismantle a number of public service unions in Wisconsin.
That success, along with the 2010 tea party sweep, led Freedom Partners to spend even more in 2014, when a number of high-profile Koch Brother beneficiaries won seats in the U.S. Senate. Not coincidentally, a number of them were on hand for the Palm Springs meeting and announcement. The Post source said Sens. Joni Ernst (R-Iowa), Cory Gardner (R-Colo.), Tom Cotton (R-Ark.), Steve Daines (R-Mont.), Thom Tillis (R-N.C.) and David Perdue (R-Ga.) were all in attendance.
What happens next? With the promise of increased spending and a growing roster of prominent and powerful Republican office-holders in their back pockets, the Koch Brothers have moved another step closer to creating a political operation on par with, but separate from, the influence of the Republican Party, which must still act in accordance with more stringent federal fundraising and disclosure laws.
In doing so, the brothers are ushering in a new era of unprecedented private influence on public policy decisions and the process for deciding who makes them. More money means their already outsize influence is likely to metastasize into something wholly different and more threatening to the democracy.