The True Meaning of Love, as Told by the Most Beautiful Lines in Literature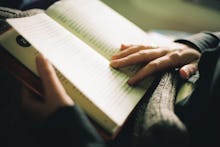 Susan Sontag famously wrote, "Nothing is mysterious, no human relation, except love."
She had a point. Philosophers have argued over the meaning of love for millennia, but a glance at literary history gives us the beginnings of a definition: Love can be a connection to something greater than ourselves, or the thing that shows us who we really are. It is the oldest feeling in the world, yet somehow always feels new. It is patient and kind, yet requires relentless dedication and hard work. It is at once our most comforting support and the thing that makes us lose our balance.
At the very least, it's more than cards, candy and fancy dinners. With Valentine's Day around the corner, here are some of the loveliest descriptions of love from literature. Because when it comes to capturing this most wonderful and mysterious part of the human experience, Hallmark doesn't cut it.
1. "Is love this misguided need to have you beside me most of the time? Is love this safety I feel in our silences? Is it this belonging, this completeness?"
2. "You pierce my soul. I am half agony, half hope."
3. "'Maybe you'll fall in love with me all over again.' 
4. "You can transmute love, ignore it, muddle it, but you can never pull it out of you. I know by experience that the poets are right: Love is eternal."
5. "Do I love you? My God, if your love were a grain of sand, mine would be a universe of beaches."
6. "She could feel herself through him. Her skin. The way her body existed only where he touched her. The rest of her was smoke."
7. "I need all the time I have and a thousand times more than all the time I have and most of all I'd like to have all the time there is just for you, for thinking about you, for breathing in you."
8. "This is what we call love. When you are loved, you can do anything in creation. When you are loved, there's no need at all to understand what's happening, because everything happens within you."
9. "Whatever our souls are made out of, his and mine are the same. ... If all else perished, and he remained, I should still continue to be. And if all else remained, and he were annihilated, the universe would turn to a mighty stranger."
10. "I'll be looking for you, Will, every moment, every single moment. And when we do find each other again, we'll cling together so tight that nothing and no one'll ever tear us apart. Every atom of me and every atom of you. ... We'll live in birds and flowers and dragonflies and pin trees and in clouds and in those little specks of light you see floating in sunbeams. ... And when they use our atoms to make new lives, they won't just be able to take one, they'll have to take two, one of you and one of me, we'll be joined so tight."
11. "And my body slopes toward yours no matter how level the ground." 
12. "Once again love drives me on, that loosener of limbs, bittersweet creature against which nothing can be done."
13. "She told me that love is when a person introduces you to yourself for the first time."
14. "I fell in love the way you fall asleep: slowly, and then all at once."
15. "I wish you to know that you have been the last dream of my soul."
16. "I don't know what they are called, the spaces between seconds — but I think of you always in those intervals."
17. "'I love you,' Buttercup said. 'I know this must come as something of a surprise to you, since all I've ever done is scorn you and degrade you and taunt you, but I have loved you for several hours now, and every second, more. I thought an hour ago that I loved you more than any woman has ever loved a man, but a half hour after that I knew that what I felt before was nothing compared to what I felt then. But 10 minutes after that, I understood that my previous love was a puddle compared to the high seas before a storm."
18. "My bounty is as boundless as the sea,
19.  "I love you without knowing how, or when, or from where.
20. "I kissed her. Her eyes were shining up at me like two blue stars. It was like being in church." 
21. "If you live to be a hundred, I want to live to be a hundred minus one day, so I never have to live without you."
22. "Love is the name for our pursuit of wholeness, for our desire to be complete."  
23. "We are lovers. We can't stop loving each other."
24. "I will love you as a drawer loves a secret compartment, and as a secret compartment loves a secret, and as a secret loves to make a person gasp, and as a gasping person loves a glass of brandy to calm their nerves, and as a glass of brandy loves to shatter on the floor, and as the noise of glass shattering loves to make someone else gasp, and as someone else gasping loves a nearby desk to lean against, even if leaning against it presses a lever that loves to open a drawer and reveal a secret compartment. I will love you until all such compartments are discovered and opened, and until all the secrets have gone gasping into the world. I will love you until all the codes and hearts have been broken and until every anagram and egg has been unscrambled."
25. "Every atom of your flesh is as dear to me as my own. In pain and sickness, it would still be dear."
26. "I think, if it is true that there are as many minds as there are heads, then there are as many kinds of love as there are hearts."
27. "Love doesn't just sit there, like a stone, it has to be made, like bread: remade all the time, made new."
28. "When you fall in love, it is a temporary madness. It erupts like an earthquake, and then it subsides. And when it subsides, you have to make a decision. You have to work out whether your roots are to become so entwined together that it is inconceivable that you should ever part. Because this is what love is. Love is not breathlessness, it is not excitement, it is not the desire to mate every second of the day. It is not lying awake at night imagining that he is kissing every part of your body. No, don't blush. I am telling you some truths. For that is just being in love, which any of us can convince ourselves we are. Love itself is what is left over, when being in love has burned away. Doesn't sound very exciting, does it? But it is!"
29. "It's always so. Each time you happen to me all over again."
And finally:
30. "What greater gift than the love of a cat."
What are some of your favorite lines about love from the world of literature? Let me know on Twitter.