#EffYourBeautyStandards Encourages Women of All Shapes and Sizes to Celebrate Their Bodies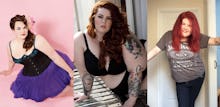 Plus-size model Tess Holliday recently made history when she became the first woman of her size and height to be signed to a major modeling agency. At 5-foot-5 and a size 22, Holliday — real name Tess Munster — is slightly shorter and larger than most plus-size models. 
That, however, hasn't stopped her in the slightest. 
"I understand not everyone understands what I'm about," the 29-year-old told Huffington Post UK. "But to me it's such a simple concept. It's all about loving your body regardless of your size and chasing your dreams."
Her agency, MiLK Model Management, signed her after discovering her Instagram account. "I think we're the only agency with a model of her size," Anna Shillinglaw, owner and director of the group, told the New York Daily News. "She is by far the largest model I have in the [Curves] division."
Holliday, who was bullied to the point where she had to leave school at age 17, was once told by a casting agent that she was too short and too large to ever make it as a model, according to BuzzFeed.
"Everybody deserves to be happy, but for some reason the fact that I happen to be plus size and happy seems to bother people," she told Huffington Post UK. "It's odd really."
Her message of body positivity has spread beyond her own life, however. Holliday is the creator of the #EffYourBeautyStandards, a campaign designed to help women of all shapes and sizes embrace their bodies.
The hashtag has taken off, and women from all over are piping up with their own words of encouragement: 
As for specific advice for young women everywhere, she told Huffington Post UK, "Surround yourself with positive, like-minded people who support you. It's crucial to your happiness and well-being. Never compare yourself to others and celebrate what makes you, YOU."
Her guidance falls in line with a slew of recent campaigns promoting body positivity, including a recent move by mass retailer Target to launch a brand new plus-size clothing line, as well as bad-ass a new swimsuit collection for plus-size women from "the founder of the blessed fatkini movement."
As both these tweets — as well as Tess Holliday's thousands of Instagram fans — indicate, that trend is taking off in a big way.
"We have so many forces around us that try and influence us otherwise," she wrote for the Huffington Post in 2013. "Why be our own worst enemy? Even if you don't have a partner to dress up (or take it off) for, do it for yourself. Our relationships with ourselves and our bodies are the most important ones we will ever have."
h/t BuzzFeed