Watch the First 'Fantastic Four' Reboot Trailer Now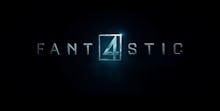 Rejoice, superhero fans. The new trailer for the Fantastic Four reboot is here — and Jessica Alba is nowhere to be seen.
Nearly six years after 20th Century Fox announced a reboot of the franchise, and after the superhero renaissance that has banked billions, the studio has released the first two-minute teaser trailer for The Fantastic Four, plus this synopsis: "Four young outsiders teleport to an alternate and dangerous universe, which alters their physical form in shocking ways. Their lives irrevocably upended, the team must learn to harness their daunting new abilities and work together to save Earth from a former friend turned enemy."
Take a look at the grim teaser:
It's, well... fantastic. From first glance, The Fantastic Four looks like it's taking a page from the "grimdark" book of successful superhero reboots like Christopher Nolan's Batman trilogy. Starring Miles Teller, Kate Mara, Michael B. Jordan and Jamie Bell as Reed Richards/Mr. Fantastic, Sue Storm/Invisible Woman, Johnny Storm/Human Torch and Ben Grimm/the Thing, respectively, the film has aged down its cast — and boosted its talent considerably. 
Simon Kinberg, who co-wrote and produced the film, told Latino Review that the film will be "more grounded, more character driven, more emotional and a little more dramatic" compared to the previous Fantastic Four films (thank God), which might explain the trailer's notable lack of any, well, superpowers.
Although the comic book series is part of the Marvel Universe, don't expect Tony Stark or Peter Parker to show up in any post-credit scenes — due to complicated and annoying intellectual property issues, the Avengers and Spider-Man franchises are forcibly separated, at least for now.