17 Stunning Photos From Obama's Historic Trip to India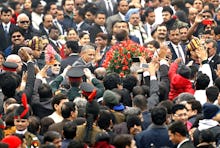 President Barack Obama is the sixth sitting president to visit India, but the first ever to do it twice during his time in office. This week, he became the first to attend India's Republic Day celebrations as an honored guest. 
Republic Day is a national holiday in India, commemorating the creation of the modern Indian state on Jan. 26, 1950, when the country's constitution came into effect.
Amid the weekend festivities, Obama also worked to pave the way for deeper military ties between the two democracies. India has for decades purchased most of its arms from Russia, so the visit presented an opportunity to discuss potential defense contracts. 
Most notable, though, was Obama's warm embrace — literally — of new Indian Prime Minister Narendra Modi, who opponents describe as a Hindu Nationalist ideologue with plans to deprive Indian minority Muslims of their legal and human rights. Modi had been on a U.S. diplomatic blacklist for more than a decade after an estimated 2,000 Muslims were killed in riots in the state he governed in 2002. But after taking power in 2014, the White House relented and invited him to Washington D.C.
Modi responded by inviting Obama back for this second trip, a three-day stay that ended late Monday.
Here are 17 memorable photos from Obama's history-making visit:
1. Modi greets Obama and the first lady as they arrive in New Delhi.
2. Modi gives Obama a big hug.
3. And another after the leaders conclude a joint press conference.
4. Obama tosses rose petals as part of a floral tribute to father of the Indian state Mahatma Gandhi.
5. Obama quotes the Rev. Martin Luther King Jr. in his entry into the guest book at the Gandhi memorial.
"What Dr. Martin Luther King Jr. said then remains true today — the spirit of Gandhi is very alive in India today. And it remains a great gift to the world. May we always in his spirit of love and peace — among all people and nations."
6. Obama speaks with child rights activist and 2014 Nobel Peace Prize winner Kailash Satyarthi while Michelle Obama embraces his daughter.
7. Modi and the Obamas greet the crowds at the 66th Republic Day of India celebrations.
7. Children line up with their families alongside the parade route.
8. Artist Js Rubal puts the final touches on a painting of Obama.
9. Obama and Modi enjoy some tea together outside the presidential palace. 
10. The Obamas are told where to stand for another photo op outside the palace.
11. More tea as Obama and Modi sit and talk between meetings at the Hyderabad House, where India hosts state banquets and receives dignitaries.
12. More meet and greet time outside the presidential palace.
13. The Obamas greet a rain-soaked crowd ahead of Republic Day festivities.
14. Modi and Obama walk and talk through the Hyderabad House gardens.
15. Obama plants a Peepal tree at the Gandhi memorial.
16. Obama and Modi seem to have an escort as they take a stroll at Hyderabad House in New Delhi.
17. Until we meet again: The Obamas say goodbye after three historic days in India.