Heartbreaking Photos from the 70th Anniversary of the Liberation of Auschwitz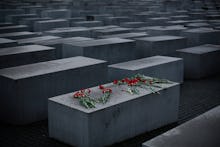 On Tuesday, some 100 Holocaust survivors from 19 countries traveled to Auschwitz for the 70th anniversary of the death camp's liberation.
Editor's Note: Feb. 13, 2015
An earlier version of this article failed to cite a passage from The Atlantic in accordance with Mic editorial standards. The passage has been removed.