Louis CK Drops 2 Feet of Shade on Meteorologists Who Overestimated "Historic" Dud Storm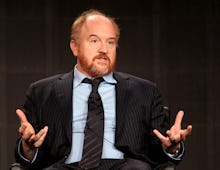 Monday's snowstorm was set to make history. It was supposed to be "crippling," and it was going to dump up to three feet of snow on New York and Boston before the day was out.
Except, come Tuesday morning, many in the Northeast woke up to slightly less than that. 
In fact, when all was said and done, New York City only got about nine inches. Boston may have gotten close to two feet, but New York was supposed to face a storm of epic proportions — Mayor Bill de Blasio even went so far as to claim it could be the worst storm in the city's history.
New Yorkers, never ones to hold back on kvetching, wasted no time expressing their disdain. But comedian Louis C.K., who was forced to cancel his show at Madison Square Garden over Juno concerns, took it to a whole new level, launching a parade of judgment on Monday night before the "worst" had even hit.
Dear friend,
Sure, it may be difficult, nay, impossible to make an decent prediction about an incoming storm. But the level to which both forecasters and media personalities alike (we're looking at you, Don "Blizzardmobile" Lemon) overstated Juno will likely make the storm go down in history for exactly the wrong reasons.
At least one person took it upon himself to apologize, however. Gary Szatkowski, a meteorologist from Mount Holly, New Jersey, sent out a series of tweets late on Monday night apologizing to the public and government officials, who had to make difficult decisions regarding transportation and public services:
Better luck next time, Gary. 
h/t The Atlantic