Watch Jon Stewart Rip Apart Sarah Palin's Totally Incoherent Iowa Speech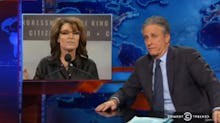 As the 2016 presidential race (ugh) heats up, Jon Stewart's already taking aim at the potential Republicans. contenders. But after devoting part of his Monday show to skewering likely candidates like Texas' Sen. Ted Cruz and Gov. Rick Perry, the Daily Show host devoted the end of his show to an old favorite: former Alaska Gov. Sarah Palin.
Reviewing footage Palin's rambling, incoherent speech at Sunday's Iowa Freedom Summit, Stewart was almost dumbfounded. 
"It was all going fine until, tragically, her subjects stopped talking to her verbs," Stewart said, later adding that the speech "wasn't just regular-person incoherent, it was Palin incoherent."
"Now we know what it's like to get cornered by Mrs. Palin at an open bar wedding," he said.
Stewart honed in on a choice line from the speech to close the segment, in which Palin argued that "to finally stop this overreaching bureaucracy, we get on offense and drive in solutions — and we be bold."
"Sarah Palin doesn't believe in your liberal elitist 'grammar' and 'syntax,'" Stewart concluded. "She be bold."