This Rhode Island School's Snow Cancellation Video Is So Cool, It's 'Frozen'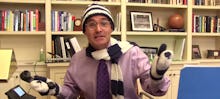 There's almost nothing better than waking up one morning to find out school is cancelled because of snow. Well, maybe one thing could make it better: a full-length "Let It Go" parody from your own school's principal.
That's exactly what students at Moses Brown School in Providence, Rhode Island, were treated to on Tuesday morning with the release of "School Is Closed." Faculty at the Quaker preparatory school created a full-length parody of the Frozen hit "Let It Go" with original lyrics and a surprisingly high production value for something that, where I grew up, was announced by sounding a giant horn — one blast if closed, two if open.
Take a look:
"We could make you come to school/But that would just be mean." Truer words have never been said.  
Adam Olenn, the school's director of communications and community engagement, wrote the original lyrics for the project that took roughly a week to put together after he "sat down and wrote it in like 15 minutes," Olenn told WBUR. "I do like the fact that I was able to work in the fractals bit that was in the original song." 
But Head of School Matt Glendinning took over the acting duties, lip-synching lines like "The plows are running but still traffic starts to slide/So don't come to school just stay inside." The school's choral director, Justin Peters, provided the vocals. 
What's especially impressive about the video is it lasts for the full 4:04 length of the original song. Even though you basically get the joke after 45 seconds or so, the video continues with location changes and everything. Glendinning even managed to capture some of that legendary Elsa sass.
The whole video is actually quite spectacular and worthy of some praise and attention, which is apparently what Oleen was hoping for. 
"On the one hand, it's surprising. On the other hand, I hoped it would happen," Oleen told WBUR. "I've seen a couple of funny principal snow day closings and I thought we could really crush that." 
Last winter, North Carolina's Durham Academy submitted their own entry for coolest school-closing video in the form of an "Ice Ice Baby" parody.
But given its production value, impressive lyrics and overall awesomeness, for my money, it's going to be hard for any school to top Moses Brown and "School Is Closed." Even if this guy doesn't totally get what's going on: 
h/t Washington Post