The Side of the Katy Perry Halftime Show You Didn't See on TV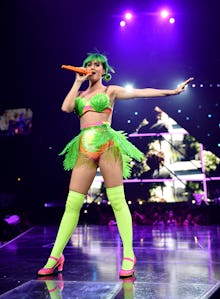 Katy Perry's Super Bowl highly anticipated halftime show has come and gone with fairly innocuous, albeit theatrical, results. But it's important to remember that this performance was supposed to be about a lot more than entertainment.
The National Football League was reportedly in discussions with Perry last year, amid the fallout from how it handled the case of now-former Baltimore Ravens running back Ray Rice assaulting his then-fiancee in an elevator. Discussing Sunday's performance with the Associated Press, Perry said that in light of the NFL's recent domestic violence crisis, her female empowerment anthems make her the ideal choice to headline the halftime show.
"I'm all about female empowerment and uplifting people's spirits and people finding their own voice with songs like 'Roar' and 'Firework,' so maybe there is no better person" for the show, Perry said. "Hopefully I can bring that incredible strength and empowerment to people through the performance."
While that's a lovely, if simplistic, thought, it'll take much more than her performance to fix the NFL's long-standing issues with domestic violence. 
Taking on domestic violence with a wink and a smile. Recent public statements aside, no one expects Perry to make the halftime show, which an estimated 115 million people watched last year, into a bold referendum against domestic violence. In fact, such a display would run contrary to her public persona. 
Perry, who's recently joined the bandwagon of female musicians who call themselves feminists, is first and foremost an entertainer. And as an artist, she's largely removed from intense political discussions. In a 2011 Rolling Stone cover story for example, Perry briefly questioned how money runs politics and why health care in America isn't free, but was also cautious not to be too appear too "politically divulging and introspective." 
This is a woman who doesn't take herself too seriously, whether she's discussing contemporary political issues or dancing around on stage in a fruit costume. 
"Everything I've done in my career hasn't been blatant this or that. It's always with a wink," Perry told the Associated Press earlier this month. But even she has realized what the NFL is dealing with goes far beyond an image problem. Rather, she said, it reflects a much broader and systemic issue that's been going on for years, if not decades, within the league.
The halftime performance is one part of the equation. Perry's booking is only one part of the NFL's strategy. While her female-powered tunes will take center stage during the telecast, the league is also planning on running a 60-second advertisement. The PSA-style spot on domestic violence recreates a chilling real-life 911 call in order to make an important point about an issue that effects an estimated 1 in 3 women and 1 in 4 men behind closed doors.
No one can fault the NFL for making an effort as the organization seems to move toward educating others while working out issues from within. But as Mic's Julie Zeilinger asks, "Are these types of commercials enough? Are these spots, as well as its allegiances with other decidedly female-centric campaigns a PR move or signs of more systemic change?" 
Notably, the organization's public mishandling of the Rice incident, which only resulted in an indefinite suspension for the player after TMZ released footage of the assault. Months later, Rice won an appeal and became eligible to play in the NFL again — although that's highly unlikely given the public fallout. 
Reflecting on the initial public outcry, NFL commissioner Roger Goodell admitted in a Sept. 19, 2014, press conference that he got it wrong. Goodell announced that all NFL teams and staff would participate in training and educational programs and that he plans to work with the players' union to make changes to the sport's personal conduct policy.
But domestic abuse — and violence in general — did not begin with the Rice case. Based on information from USA Today's NFL player arrest database, reported by Sidespin, more than 56 known incidents of domestic violence have taken place since Goodell became commissioner in September 2006. The majority of those resulted in no punishment or a short suspension. 
Fast forward four months and there's still no clear indication of how the NFL will bring about substantive changes, not just to its policy but also to its culture. The ad campaign and Perry's halftime show could very well demonstrate the league's continued awareness and commitment to finding a solution. So far, the league's actions have spoken far louder than any advertising campaign or even Perry's loudest "Roar."