Report: Chris Pratt Could be the Next Indiana Jones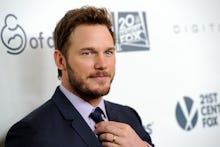 Chris Pratt, America's favorite bumbling office buffoon turned hunky space cowboy (and part-time dinosaur hunter), could inherit Harrison Ford's infamous fedora and bullwhip as the next Indiana Jones.
This news is either great or terrible for fans of Steven Spielberg's swashbuckling archaeologist, depending on how you received 2008's Indiana Jones and the Kingdom of the Crystal Skull. That film introduced Shia LaBeouf as Mutt Williams, Indy's son and implied heir to the franchise. Remember that guy? 
For many Indy fans, Pratt's casting could save the character from ruin. After all, Pratt's proved himself effective as a rebellious scoundrel in Guardians, and a strong performance in the new Jurassic Park film could solidify his status as adventurous leading man. It helps that Pratt is also rumored to be joining the cast of director Antoine Fuqua's "Magnificent Seven" remake alongside Denzel Washington.
If Pratt is cast, he should start studying now: He's got a big, er, fedora to fill.