The All-Female 'Ghostbusters' Reboot Cast Has Been Announced, And It's Going to Be Amazing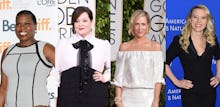 It's happening. It's really happening.
Months after the movie was first officially announced, the Hollywood Reporter reports that the all-female cast for the upcoming Paul Feig-directed Ghostbusters reboot has been selected.
They are: Melissa McCarthy, Kristen Wiig, Leslie Jones and Kate McKinnon.
While negotiations are apparently still ongoing between the actresses and the studio, the foursome is all but set to take on the legendary roles. McCarthy has been attached to the project for quite a while now, and Wiig was an early speculative choice. McKinnon and Jones are currently cast members on Saturday Night Live — McKinnon since 2012 and Jones since last year — and both are absolutely hilarious. 
A long time coming: The project has been in development purgatory for decades now. Initially, original cast members Dan Aykroyd, Harold Ramis and Ernie Hudson were set to return for the reboot with director Ivan Reitman, who first helmed the 1984 classic. But after Ramis' death last year, Reitman backed out and that idea mostly fell apart.
However, its was all resurrected when Feig was approached to direct and came up with the all-female lead cast idea. Bill Murray, who hadn't expressed interest in being part of the reboot, said he liked the idea, telling Access Hollywood, "It sounds great to me. It sounds as good an idea as any other! There are a lot of women that could scare off any kind of vapor! No, it's a grand idea, I don't know who they're talking about, but it's a good idea, I would watch it!"
In fact, the upcoming cast isn't too far off from what Murray originally speculated back in September:
With this lineup of hilarious ladies, the next Ghostbusters is sure to be hilarious, and hopefully just as good as the awesome original.