Rashida Jones Just Said the One Sentence Anyone Who Watches Porn Needs to Hear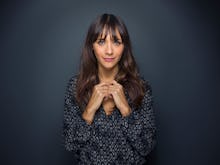 When it comes to sexuality, porn is one of society's trickier areas. How do we reconcile objectification with sex-positivity? Degradation with empowerment?
We realize that what we're seeing isn't a direct reflection of real-life sexuality to take as inspiration — and we can return to a helpful point made by Rashida Jones to remind us of that.
Jones is a co-producer on Hot Girls Wanted, a new documentary about the world of legal amateur porn and the young women who are its stars. At the Sundance Film Festival earlier this week, she discussed how we as a culture should understand porn, emphasizing one point in particular: 
"[There is a] difference between sexuality and sexualization." 
And that difference is what should separate what we see on screen from our actual sex lives. Owning one's sexuality can be empowering and pleasurable. But being sexualized the way porn stars so often are means the power is in someone else's hands. 
That surrender of control can be a troubling dynamic when it finds its way into real, non-porn set bedrooms.
Porn portrays a very narrow kind of sexuality. "Because it's performative, women are not feeling joy from it," Jones told the Wrap. "It's fulfilling a male fantasy." And since it caters to specific fantasies, porn rarely reflects the nuance of people's actual sexual experiences. 
"Human sexuality is broad, diverse, rich, nuanced and allows for so many possibilities about how a person can experience their sexuality. The kinds of sexualization and objectification we see in most mainstream porn tends to be pretty narrow," said Debby Herbenick, associate professor in the Department of Applied Health Science at the Indiana University School of Public Health-Bloomington and a co-producer on Hot Girls Wanted.
In place of those human details are potentially harmful imagery, acts and habits that don't have the same place in real bedrooms as they do in what is essentially fiction. "As my students often point out, porn sex often focuses on people's genitals — as if that's all that matters — and often features titles that describe women as 'dirty whores' or 'sluts,'" Herbenick told Mic.
Porn's version of sex can have a damaging effect in the bedroom. There's been much hand-wringing over the rise of Internet porn by those concerned that the acts young people, particularly men, see on screens will influence the behavior they bring into bed with their actual partners.
Those concerns, while potentially overblown, are based in reality. Herbenick told Mic she has witnessed these influences at play, based on the testimonies of her own undergraduate students:
"Young women often talk about sex being exceedingly rough, or about the pressure to perform anal sex or to let a guy come on their face, or to act as though they like certain kinds of sex that they don't. And young men often talk about the pressure to perform in superhuman ways, or how they compare their penis size to what they see in porn, and it makes them feel worse about themselves, and sometimes worse about their female partners' bodies if they're comparing the two (which some admit to doing)." 
A new study, published in the journal Archives of Sexual Behavior, found a similar effect, with young men using porn as their main sexual education. "The pornography that is the cheapest and easiest to access contains very high rates of violence against women and promotes a degrading and dehumanizing form of sexuality for boys," said study researcher Jennifer Johnson. That's what plenty of boys (and men) are seeing before they enter the bedroom.
That's why Rashida Jones' distinction is so crucial. When porn actors perform on camera with the sole aim of titillating the audience, they are literally being sexualized. And in many cases, particularly women, that sexualization goes hand in hand with objectification, with porn stars as the literal sex objects onto which viewers can project their fantasies.
If porn can lead to people taking control of their own sex lives, empowered to pursue pleasure in a healthy, consensual way free of shame or guilt, then that's inarguably a positive outcome. 
But if the takeaway for viewers, particularly for men, is to hyper-sexualize and objectify their own partners, that's when porn becomes problematic. That's when women find themselves pretending to like sex acts they don't, or men feel as though they need to assert themselves in troublesome ways.
Fortunately, stressing the distinction between sexualization and sexuality not only helps filter out porn's more damaging examples and create healthier standards in the bedroom; it can actually make sex itself better. As Herbenick told Mic, "What we find in our research is that the most pleasurable sex tends to be connecting in some way." 
When we avoid objectifying and instead shift to appreciating, the sex gets better for everyone.