This Is What the Super Bowl Is Really Saying With the Katy Perry Halftime Show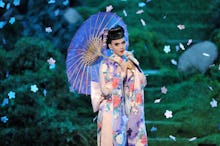 When the National Football League announced that Katy Perry would headline this year's Super Bowl halftime show, the Internet reacted with a mix of cheers and jeers, and for good reason. The Super Bowl is the biggest national TV event of the year, so when they choose a performer they look for someone popular and inoffensive. But Katy Perry is only inoffensive if you're white — in fact, she has a deeply problematic history of cultural appropriation.
Perry's infectious hits have been inescapable on the airwaves since 2008's "I Kissed A Girl." The NFL reportedly chose her over two other marquee candidates for the halftime performance, namely Coldplay and Rihanna. There's no denying Perry's radio-friendly pop appeal, and the league will need it to fuel what's by far the most-watched sporting event in any given year. But there's also no denying Perry's well-known status as a purveyor of cultural appropriation, causing serious reservations about what she'll do Sunday. That, apparently, is of little concern to the NFL.
Cultural appropriation is part of her schtick. Perry rarely offers a live performance, music video or routine appearance without a wild array of unusual costumes, including ragdolls, witches and any number of fruits. But there's nothing sweet about a playful wardrobe that often veers into demeaning cultural caricatures. And there's nothing unwitting about it either, seeing as it has happened repeatedly, and raised criticism each time.
During a 2010 trip to the Coachella Music Festival, for example, Perry donned her interpretation of what a Native American woman dresses like, posing for cameras while allegedly playing into the "hand to mouth" communication trope. When she opened the show at the 2013 American Music Awards, Perry performed "Unconditionally" while shuffling around the stage as a geisha in yellow face. 
Then came the video for "Birthday," where Perry played Yosef Shulem, a caricature of a bar mitzvah DJ, with a full-on accent, curly hair, nose and yarmulke. In "This Is How We Do," she not only sings of "getting our nails did all Japanesey," Perry attempts a blaccent while clad in cornrows with baby hairs, with watermelon slices for good measure. And on tour, she's performed in ancient Egyptian apparel, with big-bootied mummies that appeared to mimic black women's bodies. 
Perry's train of offensive stereotypes doesn't appear to be derailing anytime soon. What's more is that she's aware of the pushback and unwilling to do anything about it. In a July 2014 interview with Rolling Stone, in which the magazine noted how "uncool" cultural appropriation has become, Perry sounded torn about how to "appreciate" other cultures.
"I guess I'll just stick to baseball and hot dogs, and that's it," she said. "I know that's a quote that's gonna come to fuck me in the ass, but can't you appreciate a culture? I guess, like, everybody has to stay in their lane? I don't know."
In reality, shying away from degrading stereotypes is not at all a difficult concept — there's a huge difference between appreciating a culture and making a caricature of it. But before she takes the national stage in such a big way, she needs to prove that she's thinking more critically about how she's representing other cultures. 
But it isn't too surprising given the nature of the audience. Even though the Super Bowl is practically a national holiday, it serves a specific sector. By and large, football is the most-watched sport on television. With 111.5 million viewers — and even more during the halftime show — last year's Super Bowl was the most-viewed TV program in U.S. history. According to Nielsen's analysis of 2013 sports viewership, the NFL's regular-season games were viewed by a 77% white audience. 
Understandably, that's the demographic league officials are most concerned about offending, especially during what's become an annual advertising bonanza. Perry's history of playing on racial and ethnic tropes, however, doesn't make her an especially risky prospect for a group that's not at all targeted by her troublesome displays. 
If past halftime show picks are any indication, it's possible to have a mainstream pop performer who comes without such baggage. In the last two years, Beyoncé and Bruno Mars headlined the halftime show. Their performances came with many bells and whistles, but there was a keen focus on the music and uplifting a massive crowd. And due to the nature of the performers, American diversity was authentically on display, as well.
This is a chance for Perry to change. Perry's been tight-lipped about what audiences should expect during the halftime show. But if there's any opportunity for Perry to turn the page and realign her persona as a cheeky pop artist — minus the cultural appropriation — the Super Bowl is certainly the best chance she'll ever have. She could make this a turning point, a moment to bring everyone to the table rather than alienating them. Let's hope she takes it.