Here Is Your Glorious Hour-By-Hour Guide to Netflix on Valentine's Day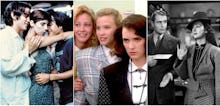 Hate it or love it, Valentine's Day is a huge holiday, prompting the exchange of around 151 million cards in the U.S. alone, not to mention all the roses and chocolates. But despite the assault of all things romantic waged each February, plenty of people are single (or spending V-Day apart from long-distance significant others).
So it almost goes without saying that this year, as Valentine's Day falls ever so conveniently on a Saturday, many of us will be curling up with a long, romantic day of Netflix. That means you need to have a strategy.
A full day of Netflix is a marathon, not a sprint. Prep by readying your favorite "gym" clothes (you know, the ones that have never actually seen the gym), stocking your fridge with healthy and not-so-healthy snacks, and picking up a bottle of wine. Then get real comfortable with your Netflix account because it's all you need to enjoy Valentine's Day. Even if it's an emotional roller coaster.
10 a.m. — Start the day empowered and upbeat about your solo V-Day party.
You've woken up, showered, had that lovely cup of coffee and croissant and now you're back in bed. Good for you! By now, you're feeling content and upbeat, the perfect mood for a quirky, seriocomic classic romance like How to Marry a Millionaire. The dolled-up escapades in this movie never gets old. 
With Lauren Bacall, Marilyn Monroe and Betty Grable, this is an hour and half of classic Hollywood fun. Heck, you might even pick up a few pointers. One problem: All the happy-go-lucky romance has you realizing how alone you are.
Noon — You're starting to feel the feels from the rom-com. Indulge them with something melancholy.
The happy romantic ending in the last movie turned out to be an unhappy reminder of your solo status. So take a trip to Los Angeles in Tom Ford's melancholic A Single Man, a gorgeous story of love and loss. Colin Firth is at his most elegant, and this delicate, vulnerable story will break and make your heart. Clocking in at just under two hours, though it won't feel like it, this one will take you to the sweet spot of the afternoon and help you nurse the afternoon mood swing. 
2 p.m. — By now, you're bitter. Love isn't real. People are awful. Ride that roller coaster with something unabashedly gut-wrenching. 
You might want that corkscrew handy because we're going for the gut-punch. I Am Love is an all-encompassing, exquisite film starring the incomparable Tilda Swinton. It's heartbreaking and lucious and visually stunning to boot. Set in Milan, the film centers on an aristocratic family and their transfer of power, struggle with tradition and intrafamilial and extramarital love, though not at the same time. As the late, great Roger Ebert wrote, "It is deep, rich, human. It is not about rich and poor, but about old and new. It is about the ancient war between tradition and feeling."
Which basically describes the crazy, mixed-up emotions you're feeling at this point. Love is great. Love is depressing. You don't have love. But screw it.
4 p.m. — Screw being sad. Who needs love when you can make mischief with someone good-looking?
Feeling really, really dark? If Clueless and Mean Girls had a twisted love child with a penchant for murder, it would be the cult favorite Heathers. Christian Slater and Winona Ryder lead this bizarre high school murder spree/love story. It's screwed up, but hey, there's no such thing as a perfect love story in real life.
Unfortunately the high body count in Heathers has you feeling a little low. You need a little reminding that not everyone is a murderous crazy person. A reminder that there's some humanity out there.
6 p.m. — Oof. Come back to reality with a real human story, something with a bit of heart. 
The sun is down, and the cold of February is starting to set in. The world is a dark place in pretty much every sense, so you need a little reassurance that humans are good and happy endings do exist. Right? Right. Leave it to Jennifer Lawrence and Bradley Cooper to give it to you, in the smart, complicated but ultimately rewarding movie that is Silver Linings Playbook.
8:30 p.m. — You're feeling hopeful about love. Excited, even. Time for a flirty dinner date with a zingy romance.
Make Cary Grant your valentine with the 1940 His Girl Friday, the film equivalent of a game of telephone. It's also an amazing screwball romance. Leading lady Rosalind Russell plays Hildy, about to get married to an insurance agent and her ex-husband (Grant) tries to win her back. The movie is a foundation of the goofy rom-com genre, a real charmer, and the actors make the women of Gilmore Girls sound like slow talkers.
10 p.m. — That classic romance has you feeling, well... it's time to turn the lights down and turn on something sexy.
Say the movie Y Tu Mamá También to anyone, and you'll likely get a one word reaction: "hot." This Mexican drama not only includes two of the smoothest men on camera, Diego Luna and Gael García Bernal, it also puts them in with the older, gorgeous Ana López Mercado for what must be the sexiest road trip caught on film. You can't not feel pretty satisfied watching this movie.
And feeling so good has you back in the mood for love. It can happen! Why not? Just need a great partner and a great real-life story.
Midnight — Feeling invigorated and optimistic, end V-Day on a high note.
A Valentine's Day spent alone isn't reason to stop believing in a good love story. Notting Hill is a standard, and for good reason. Both Hugh Grant and Julia Roberts are at their most gracious and flirtatious. Set in central London, this is classic rom-com in the best way: charming, tumultuous and fated. It's movie romance in the most scripted way possible. But hey, there's nothing wrong with ending Valentine's Day on a hopeful note.