Jury Convicts Vanderbilt Football Players in Powerful Blow to Rape Culture Apologists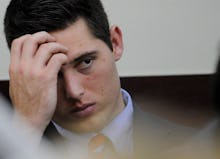 After 19 months, former Vanderbilt University football players Brandon Vandenburg and Corey Batey have been found guilty in the rape of an unconscious 21-year-old student in a Vanderbilt dorm on June 23, 2013.  Both players were found guilty of every single charge in a deliberation that lasted only a few hours. They will be sentenced March 6.
It's an important moment for the victim's family and for victims' advocates everywhere. But will this moment of justice fade? Or could it be an indication that the tide may finally be turning?
The news: On the night of June 23, Vandenberg took a 21-year-old student on a date at a local bar. Security footage from the dorm taken later revealed Vandenburg and Batey, as well as their teammates Brandon E. Banks and Jaborian "Tip" McKenzie (both still awaiting trial) carrying an unconscious woman into the dorm, reports Erin Gloria Ryan at Jezebel.
Prosecutors allege that the 21-year-old woman was then raped and penetrated with "random objects." Videos and photos of the rape were taken on Vandenburg's and Batey's phones, later recovered by detectives and shown to jurors in trial. The woman was unaware that the assault took place until shown images by the district attorney's office.
Complications: It's clear that while the actions of the teammates that night were despicable, several bystanders allegedly failed to intervene. These include another student who lived in Vandenburg's dorm, who told BuzzFeed that he saw the football player carry an unconscious woman to the second floor of their dorm that night. Multiple sources told BuzzFeed they saw the victim being moved through the hallway, a situation that quickly calls to mind the infamous Steubenville, Ohio, sexual assault.
Furthermore, the Vanderbilt football team's coach at the time, James Franklin, may not have spoken up despite allegedly viewing evidence of the crime, according to the BuzzFeed report. Franklin was respected on campus and largely credited with turning the Vanderbilt team into a winning one, although he left the school soon after the incident. Last January, he became head coach of Penn State University's football team (which has also been notably embroiled in allegations of sexual assault).
A hopeful sign: Ultimately, this trial represents the continuing battle rape victims must fight for justice in this country — but also the potential for success. Over the course of the trial, defense attorneys rolled out what seemed like every stereotypical gimmick in the book. Vandenburg's attorneys claimed he was too inebriated to rape and blamed the drinking and hook-up culture normalized on campus for his actions. This is rape culture in action. It's also concerning that this case relied so heavily on video and photographic images for its burden of proof. Having such evidence in a case of sexual assault is hardly common, and without it, survivors are consistently scrutinized, while every effort is made to uphold the innocence of the accused.
Considering that the Rape, Abuse and Incest National Network estimates 97 out of every 100 rapists will face no legal consequences for their actions, this verdict is nevertheless largely being interpreted as a victory in the fight against sexual assault. As the survivor at the helm of this case said in a statement, she is "hopeful that the publicity this case has received will lead to a discussion of how we can end sexual violence on college campuses." She added, "I want to remind other victims of sexual violence: You are not alone. You are not to blame."
"You are my heroes and I am so proud and grateful for each of you," she said to the prosecutors, detectives and victims advocates who worked with and for her. Hopefully, rather than the doubt and distrust survivors commonly feel toward law officials, this sentiment will start to become the norm.