Emma Watson Just Gave a Young Woman the Most Wonderful Advice Ever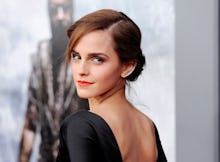 Every time we think Emma Watson can't get more amazing, she proves us gloriously, wonderfully wrong.
The Harry Potter actress, who this week was cast as Belle in Disney's live-action remake of Beauty and the Beast, is also a humanitarian and feminist advocate. In July 2014, she became a U.N. Goodwill Ambassador working on the HeForShe campaign, and in September, she gave a rousing speech at the U.N. highlighting the importance of gender equality and the power of feminism. 
Not content to keep her message confined to the U.N.'s stage, Watson recently took to Twitter with a message about gender equality. While promoting the HeForShe campaign, she answered questions and stemmed the worries of young women like her.
But she saved her best — and sassiest — response for a young woman who asked for advice on what to do about her father, who told her that engineering was a "men profession."
Her reply? "Become an engineer." 
She didn't stop there, however. Ranging from marriage to careers to military service, the questions touched on various issues. Her resulting words were practical, as well as inspiring, and ran the gamut from personal advice to more generalized wisdom for the world at large. 
Bravo, Emma.
h/t BuzzFeed