2 Chainz Dominated Nancy Grace, and Now He May Run For Mayor of His Hometown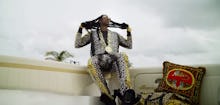 No other rapper has been having as legendary a 2015 as 2 Chainz, aka Tauheed Epps.
First, he took down Nancy Grace when the conservative troll tried to make a fool of him on national television in a debate on marijuana legalization. But he dodged her jabs deftly and ended up making legalization seem like a safe, logical course for an audience that might actually agree with him more than her.
Now, emboldened by that victory, 2 Chainz is setting his sights even higher. Encouraged by fans, he may be getting ready to run for mayor of his hometown of College Park, Georgia. 
To Grace's chagrin, Mr. Chainz may soon very well be Mayor Chainz.
It's not going to be easy. 2 Chainz is first to admit that his run will not be as smooth as rhyming "booty" with "booty."
"I'm a musician, not a politician," he told XXL. "I'm supposed to be running for mayor in College Park. I got everybody wishing ... I'm just trying to make sure I have the right qualifications." He later confirmed his intentions in a second interview with the Atlanta Journal-Constitution.
2 Chainz doesn't exactly have the most standard credentials. The rapper formerly known as Tity Boi has been rumored to have graduated from Alabama State University with a 4.0 GPA, though he refuted the claim to Rolling Stone, saying "Don't believe anything on Wack-ipedia." He has shown an entrepreneurial side, though. Earlier this month, he recently established his own label called the REAL University (acronym TRU). On Tuesday, he released his first mixtape, TRU Jack City, featuring some of his new signed talent.
But running a city is a lot different from running a label. The rapper also has a handful of felony charges. While these won't necessarily disqualify him, as Consequence of Sound points out, they might not sit well with some of the town's residents.
2 Chainz will also be running against longtime incumbent Jack P. Longino, whom the town has been re-electing since 1996. Longino recently told the Daily Beast he's not nervous about the potential political threat 2 Chainz poses -- mostly because he's not convinced that 2 Chainz actually lives in College Park, one of the first requirements in securing a bid for mayor. But if 2 Chainz does meet the requirements, Longino will welcome the challenge. "[W]e'll let the people decide," he said. "I will continue to stand on my record and what I've accomplished in College Park."
2 Chainz hasn't yet revealed too many of his political aims. He's clearly for marijuana legalization and ending the war on drugs. From his interviews, he seems to be a moderate, leaning Democrat, with a strong libertarian bent. "I just try to do right, whether it's a Republican or a Democrat," he told the Huffington Post in 2013. "But I definitely voted for Obama. He's just dealing with a lot of issues, from that Boston shit [the 2013 Boston marathon bombing] to overseas issues with North Korea and everything. Bro's got a lot on his plate, so you can't do anything but support him."
2 Chainz will also have a lot on his plate if he decides to go through with his run. But he could have a fair shot, and enough potential to be a TRU leader of the people.
h/t XXL