One Major Department Store Will Be Going Completely Gender-Neutral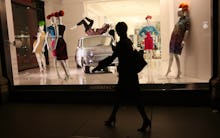 On March 12, London's famed Selfridges department store is launching Agender, a three-floor pop-up that will treat customers to something revolutionary: a gender-neutral shopping experience.
Instead of using traditional male and female mannequins, the store's windows will feature figures dressed in non-gender-specific clothing; the project will also incorporate photography, film, music and décor that examines the idea of gender. Women's Wear Daily reports that Agender will feature a variety of unisex lines, including collections from Bodymap, Nicola Formichetti and footwear label Underground. 
"[Agender] is not about harnessing a trend, but rather tapping into a mindset and acknowledging and responding to a cultural shift that is happening now," Linda Hewson, Selfridges' creative director, told Women's Wear Daily. 
"The project will act as a test bed for experimentation around ideas of gender — both to allow our shoppers to approach the experience without preconceptions and for us, as retailers, to move the way we shop fashion forward," she added.  
This concept is already familiar to the fashion world. For years, the fashion industry has been on the forefront of gender fluidity. Women began taking inspiration from menswear as early as the 1920s and '30s, when they started wearing pants; an early adopter of this trend was Katherine Hepburn. Since then, styles that are "borrowed from the boys" have made appearances in every era, from the Yves Saint Laurent "le smoking" tuxedo of the '60s to the "boyfriend jean" craze of the aughts.  
More recently, the borrowing has gone the other way. 2014's London Fashion Week saw male models sauntering down runways in decidedly feminine threads; critic Suzy Menkes declared that the move "rekindled the masculine-feminine debate in 21st-century fashion." 2015 Men's Fashion Week was no different in either Paris or Milan, with male models coming down the runway in pussy-bow blouses, kicky flared pants, lace shirts and even revealing dresses.
Then there are the models like Cara Delevingne and Andreja Pejic (pictured below), who seamlessly flit between menswear and womenswear gigs. The former is currently starring in DKNY's spring 2015 menswear adverts, while the latter, who came out as transgender earlier this year, has been featured in major campaigns on both sides. 
But Selfridges is taking it one step further — and better. While fashion has long toyed with switching and bending gender lines, Agender actually recognizes that gender divides can be done away with altogether, opening us up to reinterpret gender or simply ignore it in the pursuit of fashion.
It's progress that thus far has been largely limited to the so-called queer fashion world, where labels such as Marimacho and Bindle and Keep are taking a nuanced approach to masculinity and femininity with their non-gender-specific styles.
It's one thing to travel between the poles of masculinity and femininity, which fashion embraces, but it's a whole different animal to cast them aside entirely. Smartly, Selfridges is doing so by making Agender an immersive experience: It's not just featuring unisex clothing, but asking shoppers to reconsider the very idea of gender — one of the most deeply ingrained concepts we have.
Can this pioneer a new, plausible path? By actually jettisoning the physical divide in stores, Selfridges is allowing for practical change. The shopping experience for transgender and gender-nonconforming people can be a stressful one, made worse by the strict gender lines so common in store layouts and dressing rooms.
Selfridges' Agender not only has the chance to expand all shoppers' horizons, it will also make shopping for non-gender-conforming individuals much easier.
All that said, WWD noted that Agender will only run through the end of April, a mere "experiment" in retail. It's a vital first step, but projects like this deserve the space to forge a new standard. Fashion Week runways have embraced androgyny long enough. It's time for stores to rethink gender as well.