J. Cole Just Proved Why He's One of the Most Charitable Men In Hip-Hop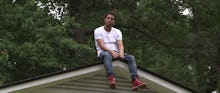 The address of J. Cole's childhood home, 2014 Forest Hills Drive, is iconic. The North Carolina rapper used the address as the title of his most recent LP to date. The house has played a larger role in the release than that, though. He invited fans to the home for an album listening party in November 2014. But he has bigger ideas for the house than his album.
J. Cole outlined his plans on the podcast the Combat Jack Show to turn the Fayetteville, North Carolina home into a "haven" for single mothers. "What we gon' do, we still working it out right now, obviously it's a detailed, fragile situation I don't wanna play with," he said. "My goal is to have that be a haven for families. So every two years a new family will come in, they live rent free."
It may not be the multimillion lump sum donation that some of hip-hop's biggest names have made in the past. But J. Cole is making it work with what he has to give. And with those two words — "rent free" — he may change the lives of numerous North Carolina families.
J. Cole's own life changed when he moved into 2014 Forest Hills Drive. He had been previously living in a trailer park with his single mother. He described the situation as very "affordable" but very "fucked up."
"I knew the energy was not right," he told the Combat Jack Show, "I knew my mother was the only white lady in the neighborhood, and there was no man in the house."
Eventually his mother purchased the small home on Forest Hills Drive. But she lost it some years later, a process J. Cole described on his track "Apparently."
"They snatched it from my mama / And foreclosed her on the loan. I'm so sorry that I left you there to deal with that alone / I was up in New York City chasin' panties, gettin' dome / Had no clue what you was goin' through / How could you be so strong? / And how could I be so selfish, I know I can be so selfish."
Cole eventually bought the home for $121,000 in June 2014. He plans to flip it into a transitional home to help other families struggling like his own once did.
"The idea is that it's a single mother with multiple kids and she's coming from a place where all her kids is sharing a room," he said. "She might have two, three kids; they're sharing a room. She gets to come here rent free. I want her kids to feel how I felt when we got to the house."
The house would add to his already active charity the Dreamville Foundation, which J. Cole used in 2013 to help provide school supplies to hundreds of kids in the area. The foundation also runs a local book club, which J. Cole visited last March to help keep the kids excited to learn.
"I'm mad proud," he told the Fayetteville Observer. "What you have is kids who had never picked up a book outside of class and who were barely picking up the books in class. Now, they're telling me about books they've read that aren't even related to book club; that feels really good."
J. Cole hasn't yet built an empire like Jay Z or P. Diddy to give million-dollar donations. And he doesn't yet have the household name like Eminem to create his own Marshall Mathers Foundation worthy of partnering with global brands. But, in hip-hop's true DIY hustler spirit, J. Cole is using what he has to give back to his community. 
h/t Billboard