In Five Words, Amal Clooney Perfectly Shut Down Her Sexist Paparazzi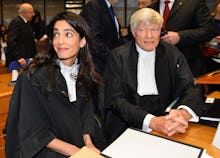 Amal Clooney isn't just a lawyer, activist and the wife of George Clooney — she may also be running one of the most interesting social experiments of our time. 
In an industry that's used to acknowledging women, especially famous ones, for their looks rather than their accomplishments, how does Hollywood respond to a beautiful lawyer who is smarter than most of Hollywood's celebrities combined? Hilariously poorly, that's how.
Clooney is in Strasbourg, France, representing Armenia in a case against Do?u Perinçek, the leader of the Turkish Workers' Party and an Armenian genocide-denier, currently being argued before the European Court of Human Rights. But it was not her role in the fascinating case that had paparazzi flocking, where they overlooked the complicated human rights issues at hand in favor of the most pressing question: what Clooney was wearing. 
At a loss for words, the human rights lawyer simply responded, "I'm wearing Ede & Ravenscroft," while pointing at her court attire. If that brand doesn't ring familiar, that's because it's not exactly haute couture: The centuries-old clothier is best known for its ceremonial robes and wigs.
Touché, Amal.
Clooney carefully kept her composure despite the ridiculous, not to mention offensive, question. She's clearly a hard woman to rattle — not surprising given her records as an international jurist. But it's possible that deep down, this is what was really going through her mind:
It pretty much goes without saying that a question like this would never be asked of a man in this position. But the fact that a reporter thought this was remotely acceptable courtroom behavior nevertheless says a lot about the way we still view women.
Although it may come as a surprise to many, a woman who is famous or tied to the entertainment industry in some way is still a human being, with interests and skills and accomplishments unrelated to her designer of choice or her stylist. 
This isn't to say women aren't fighting back. Stars such as Emma Stone and Scarlett Johansson have taken to correcting reporters who ask them about their diets as opposed to their acting skills, and on the red carpet, women like Cate Blanchett are highlighting similar double standards. 
But it's not enough. Amal Clooney does not have time to repeatedly educate the press on the do's and don'ts of basic journalistic ethics and etiquette, nor should she have to. If industry reporters can't fix their sexism problem, the least they can do is pretend they aren't total Neanderthals when they're interviewing her. Clooney is sort of the best thing Hollywood has got going for it right now, so let's not ruin it for George or the rest of us, OK?
In the words of transgender activist and author Janet Mock, "Get it together."