Rick Perry May End Up in the Big House Before the White House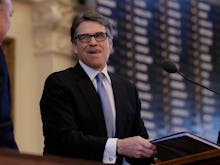 A federal judge has refused to throw out felony abuse of power charges against cowboy hat-wearing former Texas Gov. Rick Perry on Tuesday, leading him to announce on Wednesday that the looming criminal case won't affect his presidential run in 2016.
The Associated Press reports that Perry referred to the charges as the "criminalization of politics" and said that he would be certain of his presidential campaign status by the "May-June timetable." It's a major headache for Perry, and will almost certainly derail his already-shaky 2016 ambitions. Technically, the former governor is now more likely to end up in the big house than the White House.
The background: The charges are related to a 2013 incident in which then-Gov. Perry publicly threatened to veto $7.5 million in funding for the public corruption division headed by Travis County D.A. Rosemary Lehmberg, who had recently been convicted of drunken driving. Perry told Lehmberg, a Democrat whose unit is prosecuting former Rep. Tom Delay and has repeatedly incurred the wrath of Texas Republicans, to resign "or else." In doing so, he may have violated state laws that ban coercing or bribing public officials. The maximum jail time for the twin charges of abuse of official capacity and coercion of a public servant is a combined 109 years.
Both Republicans and Democrats seem to be skeptical of the charges, calling them an ill-advised ploy to draw Perry into a politically motivated prosecution. But the Daily Beast's Dean Obeidallah wrote that the case is more likely to result in a conviction than either the New York Times or Briebart have assumed.
"Criminal defense lawyers I spoke to, who are in the legal trenches on a daily basis, made it clear to me that this case could result in a conviction," Obeidallah writes. "And the Texas Observer, which has been following this story far before the national media, agrees."
The refusal to dismiss makes it much more likely that Perry will go to trial, obliterating his chances of another presidential run in 2016. As Obeidallah notes, about six governors have been sent to prison in the past 20 years, so no one should be surprised if the punishment facing Perry, if he's convicted, ends up being more severe than previously assumed.
Goodbye, Perry: Even if the case fails to pan out, it's sure to do immense damage to Perry's already-flagging poll numbers — which Public Policy Polling estimated stood at just 7% among Republicans in December. He made a strong showing at the recent Iowa Freedom Summit, but it's probably too little, too late. After a supremely embarrassing 2012 campaign in which he forgot which three federal departments he'd cut from the budget and ran strange anti-gay ads that backfired big time, Perry would need a flawless comeback to remove the bad aftertaste lingering in the public's mouth.
Unfortunately for Perry, as the Texas Tribune's Ross Ramsey writes, "Just as he is gaining some credibility, he is running out of time." The all-important Iowa straw poll is in August, followed thereafter by next year's January caucuses. The governor still has an appeals process to go through, but Perry's legal team might only succeed in delaying the inevitable right into the middle of campaign season.
This horse might not be dead yet, but it's busy being beaten. 2016 just got a lot harder for Perry, which is good for everyone who still enjoys having departments of Commerce, Education and — uh, oh yeah, Energy — in four years.