What Three Failed Months on OkCupid Taught Me About Dating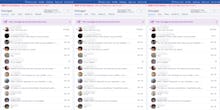 "I'll do it."
That was the quick affirmative response I told bosses about participating in our recently construed online dating experiment. The concept was to go on at least one date from every major dating sites, plus some of the more niche ones. (A Jewish girl on ChristianMingle.com? Sure, why not.)
It won't be too hard, I reasoned. I won't put that much time into each profile, plus I can reuse the same quippy lines and batch of flattering photos. Plus, it's free. 
300 OkCupid messages later (plus a few Tinder missives for good measure), I will openly admit I was wrong. It was hard. And disheartening. And I learned something fundamental, and perhaps even weirdly beautiful, about dating in the process. 
Online dating is supposed to make it easier to meet a potential mate. Or rather, it's supposed to make it easier to get dates. No site, not even OkCupid with its all-knowing algorithm and 100,000 questions, guarantees you'll find the love of your life. But by laying out all the options by every category imaginable (fellow weed smokers! Jews! People who can't eat gluten! Dudes with beards!) and allowing you to zero in on the right types of people, online dating is supposed to ease the hunt. 
But for all the hype surrounding online dating, all of the media frenzy over Tinder for this, Tinder for that, and online dating's ability to change our dating lives as we know them, it's pretty darn limited. Because, well, the exhausting formalities of talking through screens zaps up our energy before we we actually — you know — go on dates. 
Yes, online dating requires actually dating. The conversation and practical expectations around what we call "dating" have changed so vastly that I forgot actual dates — drinks, dinner, maybe a movie — would be part of the deal. Online dating promises to connect us with people we would have never met, or perhaps more quickly connect us with those hovering at the edges of our social orbits. It promises to narrow down the options, to hone in on people's real interests and personalities and passions.
But it never really promises anything about actual dating. And that's because it can't. 
Online dating makes us feel like we're dating when we're not actually dating. Swiping isn't dating. Unless you're some sort of Skype whiz, dating involves in-person interaction. You have to actually make some human connections — otherwise online dating is literally Facebook with fewer pictures, more selfies and no cat videos.
Unfortunately, all the swiping (and clicking and scrolling and tapping) to get there not only gives us the illusive sense of dating; it deadens our enthusiasm and lessens our ability to muster interest or care, bit by bit, with every swipe left. And that growing apathy can affect our interest in using the online tools, but also, scarily, our interest in even bothering in real life.
"Tinder had bludgeoned my brain, stripping all the fun out of seeking chemical attraction in real life and in real places," Dayna Evans recently put it on Gawker. "Tinder gives us what we think we want, but without the spark or intrigue, or any of the human effort that normally goes into sex and dating."
That spark or intrigue can be great, but you have to be ready for it, ready to meet it with some spark of your own — or it least some, er, tinder. And ironically, the more I progressed in this multi-site experiment, the less I had any desire to "get out there," as someone's mother would say. 
I swiped, I clicked and I wasted 15-minute chunks of time poking around the sites. But when it was time to actually arrange a time and place to meet another human being, all I could do was emit a vaguely exhausted sigh and close the tab. 
In three months, with a total of three apps (Tinder, OkCupid and JSwipe) and about 350 messages, I went on a total of two dates.
Not everyone is so gloomy about online dating, of course. Some people love it, bless their hearts. But those who love it will likely tell you, as a coworker recently told to me with an earnestness typically not witnessed in New York City, that they truly love going on dates.
Of course going on dates can be great, or it can suck, depending on the person sitting on the other side of the table across from you. And that commonly-felt ambivalence towards actual dates, combined with the soul-deadening infinite scroll of online dating, does a number on the flickering ember of enthusiasm and interest we skeptical ones have in dating in the first place. 
And that's unfortunate. Because the truth — if there's some beautiful truth to be pulled from three months of online dating that amounted to a statistical failure — is that connecting with a human is a timeless thing that still needs to be done by humans. Face to face. Ideally without a screen in between. Even the most slickly designed app can't replace spending quality time with another person.
And that, in fact, may be the least cynical stance on dating there is.