A St. Louis Police Oversight Meeting Devolved Into an Utter Shitshow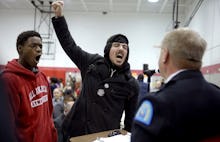 In most cities, a hearing conducted by a local public safety committee would be the last place for a massive brawl to break out between civilians and police officers. But then, most cities aren't post-Michael Brown St. Louis.
According to the St. Louis Post-Dispatch, a Wednesday night meeting was held to seek public comment about a proposed civilian oversight board for the police department that would be able to investigate allegations of police misconduct. St. Louis is one of the largest cities in the United States without any type of independent oversight of its police department. 
For its first hour, the meeting was uneventful, with St. Louis-area residents politely debating the positives and negatives of the creation of the oversight board following the shooting death of unarmed teenager Brown at the hands of St. Louis police Officer Darren Wilson in August 2014 and a grand jury's subsequent declaration that Wilson did not break the law.
Then the cops showed up.
The officers began testifying in opposition to the bill, declaring that such a board would hamper crime-fighting efforts with bureaucracy. Alderman Terry Kennedy, the committee chairman, struggled to maintain order as word spread through the crowd of civilians that the off-duty officers were wearing wristbands declaring "I AM DARREN WILSON," in violation of a request Kennedy made of all attendants to avoid overt support or criticism of the police department. As tensions in the room mounted, Jeff Roorda, the head of the St. Louis Police Officers Association, attempted to call for order, which set Kennedy off.
"Excuse me — first of all, you do not tell me my function," Kennedy shouted. According to the Post-Dispatch, Kennedy has been a champion of civilian review for more than a decade. Roorda shouted back at Kennedy, everyone else in the room began shouting and members of the audience attempted to leave the packed room at the same time Roorda attempted to rush to the front.
That's when all hell broke loose. 
"I was literally just trying to leave the meeting and I got caught in whatever Roorda and Kennedy had going on in their exchange," Cachet Currie, a woman Kennedy (purportedly accidentally) shoulder-checked on his way to the dais, told KMOV-TV. "Roorda just jumped out into the aisle, pushed me over and tried to get to Kennedy. I'm like, 'Wait a minute, don't push me.' 
"Then he started going off on me, pushing me. Some man grabbed me by the hair, just started trying to throw punches at me. From there it just went wild."
Roorda claims he was pushed first: "As I tried to exit the aisle I was in," he told KMOV, "the woman was standing in the way. She began elbowing me and pushing, trying to keep me from getting out. As I tried to exit, she continued to do that. Two or three other anti-police radicals rushed over and things escalated from there." 
In (regrettably unembeddable) video of the "Brawl at City Hall," as local media outlets have dubbed the incident, a man can be heard shouting, "You white supremacist motherfucker!" at the off-duty officers. "Get the fuck outta here with that BULL-shit!"
Kennedy was still in positive about the future of the oversight board. 
"There will be disagreements. These things have simmered for a long time," he told the Post-Dispatch. Roorda was more condemnatory: "We spent the night hearing from anti-police radicals. We hear from two police officers and [Kennedy] lets the place go wild."