This Gay Couple Is Masterfully Trolling Jeb Bush's Inevitable Presidential Campaign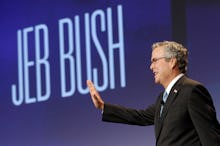 When Jeb Bush formally kicks off his inevitable presidential campaign, he won't be in any hurry to direct supporters to JebBushForPresident.com.
Given the message that awaits visitors who do make it there anyway, you can understand why:
Hi there, and welcome to the page. CJ and Charlie are two guys in a great relationship who are looking to inform our friends and family about some of the challenges we face being part of the LGBT community. This page is intended to prompt understanding, insight, and healthy dialogue in the ever changing landscape of civil rights and social justice. Now we just need to find some time!
The C.J. and Charlie in question are C.J. Charles and Charlie Rainwater, a gay couple in Portland, Oregon, who purchased JebBushForPresident.com in 2008. They say they have no plans to sell it to the former Florida governor or any of his associates and have already turned down a number of outside offers.
Charles and Rainwater, self-described "high-tech bears" now working in the Pacific Northwest's "microprocessor design industry," told Mic in an email that they want to use the site "to draw attention to how our lives and the lives of other LGBTQ folks are being affected by legislation, both positively and negatively."
"We both agree that we don't want to just have a protest or 'bash' site," Charles says. "I would say that we're looking for opportunities to help folks discover LGBTQ people are just like everyone else, hopefully build some compassionate dialogue."
Jeb Bush and LGBT issues: Bush's position on the issue of gay marriage has evolved significantly over time. He previously had a very conservative view of homosexuality and marriage equality.
In a 1994 editorial, he dismissed gay relationships as mere "sodomy" and argued that "homosexuals" did not "deserve special legal protection from otherwise legal, private acts of discrimination." But more recently Bush has called for "respect" in the debate over same-sex marriage. The 61-year-old now says, with apparent unease, that the issue is a decision for the states. 
"We totally disagree on both [the 'sodomy' and states' decision comments] and hope to convey some information that may help people see that," Charles writes. "He's not the only politician to make claims like this, so we're not fixated solely on him, but since he's put the statements out there, we're going to use the platform to deliver our views on his policies and those of others."
Representatives from Bush's Right to Rise political action committee didn't immediately respond to a request for comment.
The rest of the GOP field: In that case, Charles and Rainwater should have a very busy and exciting two years. The coming Republican primary season, in which the deeply conservative Bush is regarded as one of the most moderate choices, will likely be dominated by a field of candidates competing to win over the GOP's right flank. 
For underdog candidates like former Arkansas governor Mike Huckabee, who left his job at Fox News for the opportunity to travel the country and make the case against social progress, gay marriage and other anti-discrimination legislation could very well become campaign themes. 
Bush's challenge as the field comes into focus will be to avoid saying the kind of things that folks like Charles and Rainwater would pick up on and amplify to moderate voters. The son of one president and brother of another, he seems to get it.
In December of last year, he told a group of business executives a Republican candidate must be "willing lose the primary to win the general." Simply put, he's saying that he won't risk alienating himself from most Democratic and independent voters in order to placate the very powerful reactionary wing of the Republican party. 
As for Charles and Rainwater, they say JebBushForPresident.com might not focus on Jeb Bush at all if he follows through. The men say that they "both want to vote for who we feel is the best person for the country, regardless of political affiliation. ... America has a lot of things that need to be fixed, and the candidate that brings the most to the table will get our votes."
h/t Pink News