13 Romantic Movies on Netflix That Totally Kick Nicholas Sparks' Ass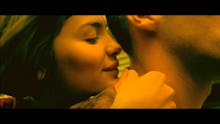 For film lovers looking to avoid the inevitable 50 Shades of Grey viewing on Valentine's Day, but also want to avoid falling into the deceptively sun-dappled, emotionally brutal world that is every Nicholas Sparks movie — well, we've got a better weekend plan for you.
Instead of suffering through torturously awkward or clichéd movie viewings, couples and singles alike might as well use the day to watch an actually good film.
So it's time to spend the night the way you really want to: cuddled up on your couch with the best romances Netflix has to offer. Here are just a few of the best romantic films streaming now, filled with iconic moments and (mostly) free of frustrating cliches. 
1. Amélie
This whimsical French favorite is so smartly hilarious and adorably romantic, the subtitles practically disappear. Shy waitress Amélie decides to make the lives of those around her happier, adding incredibly accurate observations the whole time. For instance, when Amélie innocently wonders, "How many people are having an orgasm right now?" the camera pans to a surprisingly loving montage of couples around Paris in the act. What sounds awkward is somehow charmingly touching.
2. American Beauty
This classic from 1999 features Kevin Spacey before he was Frank Underwood, playing a middle-aged man who becomes infatuated with his daughter's friend. The film is a thoughtful exploration of love, sexuality and lust, with more than a few bizarrely dark and cynical moments. Warning: It's about as far from a romantic comedy as you can get. But who said love is always bright, happy and perfect?
3. Populaire
For those who find French inherently romantic, Populaire is a recent French film set in the 1950s. Twenty-one-year-old Rose fears she is destined for the dull life of a housewife, but soon finds she has a talent for fast typing. This clever, witty movie takes a lighthearted approach to a Mad Men-esque style of office sexism in a refreshing and funny — and yes, romantically charming — way.
4. Sabrina
This movie guaranteed Audrey Hepburn an Oscar nomination for Best Actress, alongside top-notch performances by Humphrey Bogart and William Holden. It offers one of the first and arguably the best love triangles, when the sons of a rich family both fall in love with their chauffeur's daughter. This is Hepburn at her most charming, not to mention most stylish — it is, after all, the film set where she first met the designer who'd dress her for the next four decades, Hubert de Givenchy.
5. Submarine
This 2010 coming-of-age indie drama centers on 15-year-old Oliver Tate, who has two central ambitions: to save his parents' marriage, and to lose his virginity before his next birthday. These goals lead to some drastic (and hugely funny) behavior, including forging love letters, monitoring his parents sex life and trying to woo a self-professed pyromaniac. This is the best choice for a movie that's relatable while still a mix of hilarious and poignant.
6. Pretty in Pink
This Molly Ringwald classic is the most uplifting romantic choice for those who loved Sixteen Candles or The Breakfast Club. (And for those who aren't already big Molly Ringwald fans, consider this: Lorelai Gilmore called her the Audrey Hepburn of their generation.) It's an iconic '80s star-crossed lovers story, in which the girl from the wrong side of the tracks falls in love with a rich guy, finding her happy ending in an atrociously pink prom dress. In other words, the perfect V-Day movie for a generation.
7. Like Water for Chocolate
There may be nothing sexier than forbidden love, which is at the center of this 1993 Spanish film. Also, eating: As Entertainment Weekly put it more than 20 years ago, it's "a glazed romantic-erotic fantasy that celebrates the intermingled powers of love, imagination and food." Between the evocative dishes, the moody lighting and slow-burning pace, Like Water for Chocolate is one of the most delicious ways to spend Valentine's Day.
8. Annie Hall
Opinions on Woody Allen aside, this romance is worth a watch. Starring a young Diane Keaton, the film follows the trials and tribulations of a relationship between a TV writer and his girlfriend, an aspiring actress originally from the Midwest.
Full of subtle, Woody-style comedy, Annie Hall is also worth watching for a glimpse into 1970s New York City, a setting every bit as charming as the storyline. It's also famous for popularizing the term "VPL" for "visible panty line," if you don't have enough reason to watch already. If you haven't seen it yet, Valentine's Day weekend is as good a time as any.
9. Cashback
This unconventional 2007 movie starts with a breakup, not exactly the most romantic beginning. But following the imagination and flashbacks of the teen protagonist, Ben, we get a charming look at love and beauty through young eyes. It is, as the Philadelphia Inquirer called it, "a sleek little meditation on beauty, desire, love and time." It's not your classic romance, but rather a unique take on matters of love.
10. Jerry Maguire
If you know Tom Cruise mainly as the guy who jumped on Oprah's couch, wore aviator sunglasses in Top Gun and now makes exactly one action blockbuster a year, this movie will help you understand why people found him so attractive when we were young. Cruise acting opposite Renee Zellweger makes both buzz with palpable chemistry. The movie might appeal to some sports fans, but the main draw is finally seeing the origin of the now-classic line "You had me at hello." 
11. Silver Linings Playbook
This movie may still feel new, but it's a touching romance worth revisiting. Silver Linings Playbook is the film that finally won everyone's dream BFF Jennifer Lawrence an Oscar for Best Actress, and showed Bradley Cooper for the excellent actor he is. The two make an even better pairing here than they did in American Hustle, getting a happy ending worthy of a V-Day date. 
12. To the Wonder
For those drawn to director Terrence Malick's dreamy, lush approach to filmmaking, this 2013 movie is an ideal romance to curl up with. A "romantic melodrama whose major characters fall tragically and beautifully in and out of love," as the New York Times put it, To the Wonder focuses more on the transcendent emotions of his characters rather than the details of their backstories. In doing so, the film captures some of the elemental aspects of human love. 
13. Shakespeare in Love
For lit nerds who love binge-watching, this is the movie to watch on the year's most romantic weekend. With Gwyneth Paltrow playing William Shakespeare's muse (and reminding us that yes, she is a pretty badass actress), this hilarious romantic comedy loosely incorporates aspects of Shakespeare's real life. The highlights: all the historical references (hello, Marlowe), the feminist undercurrent and stars like Colin Firth, Judi Dench and Ben Affleck popping in and out. Oh, and the British-inflected romance. 
Because is there anything sexier than a Shakespeare sonnet read aloud?