There's Now a Spotify for People Who Love Live Music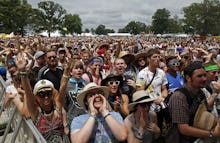 Twitch, the company famous for streaming people playing video games, isn't as niche as it seems. In fact, it's currently building a revolution in live music — and they're going to completely change how we see our favorite bands. They're building out a potentially massive streaming service for live concerts. You could see your favorite band from anywhere in the world.
It's a bold mission, but Twitch has the firepower to accomplish it. Soon it may be possible to watch your favorite band play a live show from their garage, or to follow a beloved act through a small club tour. This isn't just big news for fans, though — it has huge implications for the bands we love. Twitch has proven that they know how to scale these sorts of performances. Last year, the company had 1.5 million unique broadcasters per month, who created 11 million videos each month. Throughout 2014, 100 million viewers tuned in every month to watch people playing video games. These numbers are a clear sign that Twitch knows how to take passion and turn it into a whole new platform. Amazon thinks so, too: It recently acquired the service for $1.1 billion. 
The company first expanded beyond streaming gaming videos in July with a live concert from acclaimed Japanese electro-house artist Steve Aoki. The company has also announced future plans for more record label-sponsored radio channels and more broadcasts of concert and festival performances. But Twitch is truly great for artists in two important ways: exposure and earnings. Though other services, like Livestream, have tried to make streaming concerts happen, none have made it easy for artists to do professional-grade and easily monetized streams. And few can promise the sort of reach Twitch has previously demonstrated.
There's clearly a market for it. Live music is the music industry's one bright spot, profit-wise. Recorded music only brought in about $15 billion worldwide last year. Yet music festivals are huge — Coachella alone did $78 million in ticket sales over its two-week span last year. Brands like Red Bull, Heineken and H&M spent more than $1.3 billion on sponsorships and ads for music festivals.
Live-streaming large concerts right now might add value for an event's promoter, but with Twitch, all bands, not just high-profile ones, can live-stream tours, or even tour virtually online to a potentially massive audience.
This has the potential to help the Internet do what it always meant to: Put the power back in the hands of the creators. Through Twitch, you can expect way more creative and goofy live tour initiatives like Vulfpeck's infamous Sleepify tour, which was funded through royalty payments on an all-silent album that their fans streamed for hours on repeat. It'll make live music a lot more creative — and, if done properly, it'll take one huge step towards democratizing the industry.