If Male Athletes Were Asked the Same Questions As Women, This Is How Absurd It'd Sound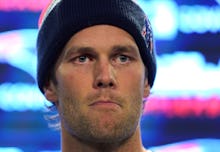 During post-match interviews at this year's Australian Open, top-ranked tennis pros Serena Williams and Eugenie Bouchard were both asked by male journalists to show off their outfits on the court. Twirlgate, as the incidents were quickly dubbed, is about much more than a few offhand comments, however. As Williams noted in a separate press conference, "I wouldn't ask Rafa [Nadal] or Roger [Federer] to twirl."
Female athletes are clearly getting tired of this double standard, just as their counterparts in the entertainment industry have started speaking out about sexist questions on the red carpet. 
This disparity is thrown into especially high relief by the media fanfare surrounding Sunday night's Super Bowl. When male athletes take an interview or undergo scrutiny online, it's usually focused on the game and their athletic abilities. Unfortunately, women find themselves having to answer questions on femininity, beauty and frivolous topics unrelated to matters of competition. It's as though the idea of a female athlete remains bewildering.
Women who play sports have been interrogated over their hairstyles, motherhood and of course their game-time wardrobe. "Twirlgate" is really just the tip of the iceberg. So in the interest of fairness — for both the Super Bowl and many other sporting events to come — here's a few questions for the guys:
1. On their current wardrobe:
2. On their love life:
3. On their skill:
4. On their grooming habits:
5. On their body image:
6. On their diet:
7. On their family life:
8. On their ad deals: 
9. On their fans:
------
Ultimately, the idea that a reporter would ask Tom Brady about his outfit or about the way his muscles are perceived by fans is ludicrous. If only the same could be said for Brady's female counterparts.