Missy Elliott Will Join Katy Perry at the Super Bowl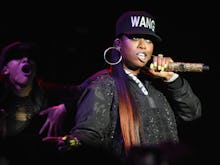 Hip-hop legend and longtime Timbaland collaborator Missy "Misdemeanor" Elliott will join Katy Perry at the Super Bowl halftime show Sunday, the Associated Press reported. Perry had teased Thursday that there would be a surprise guest, saying, "I wanted to bring someone back. ... It's a bit old school. When this person enters the stage and you hear the first ring of the chord I think jaws will drop and faces will melt." 
Elliott appears to be the last-minute addition. And she's about to steal the show — not only is she primed for a comeback, she'll help add some much needed diversity to the halftime show.
Perry has come under fire recently for inappropriate cultural appropriation. Her live performances in the past have featured demeaning cultural caricatures: donning a Native American headdress, applying yellow face to act as a geisha, wearing a big nose as a bar mitzvah DJ and sporting those infamous cornrows. 
Adding Elliott to the mix for Sunday's show could be a strategy on the part of the National Football League to diversify the act and put a damper on Perry's mounting reputation as culturally insensitive. Elliott, best known for hits like "Work It" and "Get Ur Freak On," isn't actually such a strange pairing with Perry. The two collaborated on a remix of Perry's hit "Last Friday Night (TGIF)" in 2011. 
This is a welcome return, though. Elliott has been missing from the scene for a while, largely because she's been battling a rare thyroid condition called Grave's disease. The last album Elliott released, The Cookbook, was back in 2005, though she's made guest appearances on songs with Ciara, Demi Lovato and the Pussycat Dolls. Her most recent performance was in June 2014, when she took the stage with Pharrell Williams at the BET Awards. 
Elliott's appearance at this year's Super Bowl at the University of Phoenix Stadium in Glendale, Arizona, could well usher in the epic comeback her fans have been longing for. At the very least, it means this halftime show just got a whole lot better.  
h/t Associated Press