No, Mitt Romney Is Not Running for President Again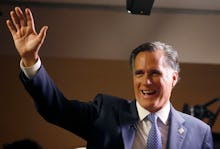 The buzz has flatlined. The whispers are fading away. Mitt Romney will not launch a third presidential campaign.
The two-time Republican candidate told a group of donors on a conference call simulcast on CNN that he has "decided it is best to give other leaders in the party the opportunity to become our next nominee."
"I believe that one of our next generation of Republican leaders, one who may not be as well known as I am today, one who has not yet taken their message across the country, one who is just getting started, may well emerge as being better able to defeat the Democrat nominee," Romney said. "In fact, I expect and hope that to be the case."
Romney, who lost the Republican nomination to Sen. John McCain (R-Ariz.) in 2008 and the general election to President Barack Obama in 2012, had teased supporters with increasingly pointed hints that he was ready to hit the trail one more time.
That decision would have represented a dramatic change of heart for the former Massachusetts governor. 
Asked by the New York Times last year if he'd ever consider running again, Romney said, "Oh, no, no, no. No, no, no, no, no. No, no, no. People are always gracious and say, 'Oh, you should run again.' I'm not running again. I will say this: It was a great experience. I loved it."
But on Jan. 17, Romney told a group of Republican National Committee members at a winter meeting in California, "Me, I'm giving some serious consideration to my future." Pointing to his wife, Ann, he said, "She believes that people get better with experience, and heaven knows I have experience running for president."
Romney insiders, donors, friends and associates had been goosing reporters incessantly for the past couple of months, insisting that the question of whether he would run was very real and the decision incredibly difficult. 
"Those in Romney's orbit are convinced that Mitt is not just best qualified, but almost uniquely qualified to turn around the nation and help guide the world to safer pastures," Bloomberg's Mark Halperin wrote hours before Romney officially jumped out of the running. "The Romneys consider this assessment a clear-eyed, rational analysis of his skills as a manager and a leader, augmented by the sense of duty he was raised with in the Mormon faith."
If Romney had universal support from the occupants of his "orbit," a political shorthand for "people who are either on Romney's payroll, stand to join his team if he runs and/or are donors who want to get the gang back together," the outside world was less bullish. Candidates have run and failed and run again and won, but there is little evidence that Romney had the juice to be that figure.
Supporters and Romney himself continue to point at very preliminary polling from early caucus and primary states that show Romney with a significant lead over the other prospective candidates. A Fox News poll released Thursday found that "Romney leads with 21% [support] among self-identified Republicans. He's followed by Kentucky Sen. Rand Paul and former Arkansas Gov. Mike Huckabee each at 11%, and former Florida Gov. Jeb Bush at 10%."
"One poll out just today shows me gaining support and leading the next closest contender by nearly 2 to 1. I also am leading in all of the four early states," Romney said Friday. "So I am convinced that we could win the nomination, but fully realize it would have been difficult test and a hard fight."
As any mildly-seasoned political observer will tell you, those early survey results are more a measure of name recognition than anyone's actual intent to vote. The fact that Romney, a two-time national candidate, leads now, in early 2015, meant precisely nothing for 2016.
The smart political operators seemed to know it. In the last 24 hours, one of Romney's most trusted former advisors jumped to the likely Bush campaign. He wasn't the first. Indeed, many of the donors who backed Romney four years ago are reportedly committing to Bush's cause in 2016.
Eight days ago, Bush and his team hopped a flight to Utah, where he and Romney had a private meeting  about the road ahead. The details of their conversation have remained, in an era of rampant scuttlebutt and political leaks, closely guarded and almost entirely a mystery. But the smart money says the conversation hinged on cash — and the fact that the two men couldn't properly drink from their shared well of support.
On Friday, Romney showed he wasn't as thirsty as so many of us thought.