Whoopi Goldberg Has the Perfect Response to Anti-Vaxxer Parents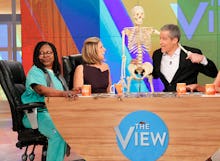 Anti-vaxxers, "Save your emails and your tweets," because Whoopi Goldberg is about to drop some truth on you, and she doesn't care who hears.
The EGOT-winning comedian was discussing the anti-vaccination movement on The View with co-host Rosie O'Donnell and guests Mario Cantone and Padma Lakshmi on Thursday. The panel was debating the story of Oakland, California, mother Jennifer Simon and Livia, her infant daughter. Livia was forced into a four-week quarantine after visiting a doctor who had treated a child with measles earlier in the day. Livia, too young to be vaccinated, is now waiting out a quarantine to ensure that she doesn't become the latest victim of a disease that used to be all but eradicated in the Western world. California has been hit by a high-profile measles outbreak following a trip to Disneyland by an unvaccinated family.
This infuriated Goldberg, who decided to go all "Molly, you in danger, girl" on the anti-vaccination movement. "The fact that you are proudly saying, 'I'm not vaccinating my kid,' find yourself an area with other people who feel like you. And then, you won't have to worry about it," Goldberg said. "I tell you, if I get measles from your kid because I haven't had them, I'm coming to your house."
She's damn right. The rise of access to vaccines has functionally eradicated scores of deadly diseases in the U.S., boosting quality of life and life expectancy for millions of children. Due to a falsified study that linked vaccinations with autism, however, 1 in 10 American parents delay vaccinations for their children, or even refuse to have their children vaccinated at all. Thanks to families terrified of the false link between vaccines and autism, as well as "personal beliefs" exceptions utilized by parents who want "all-natural" lifestyles for their children, that number is only getting higher.
Anti-vaxxer parents are being manipulated into leaving their children susceptible to dangerous, even deadly diseases by organizations like the National Vaccine Information Center and high-profile celebrities like former View co-host Jenny McCarthy. With Goldberg around to head off anti-science rhetoric on the airwaves, however, anti-vaxxers might just think twice before declaring that vaccines are dangerous.