9 Absurd Signs You May Be a Jihadist, According to the French Government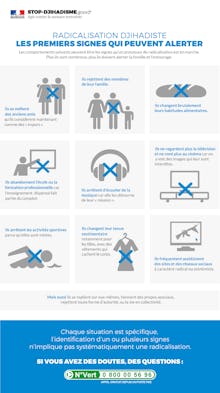 An infographic created by the French government as a training tool for civilians to spot potential jihadists in their own backyards is one of the most widely shared things on the Francophone Internet — although not in the way its designers intended.
On Wednesday, France launched Stop-Djihadisme.gouv, a public-awareness site intended to counter religious extremism in the wake of the attack on the offices of French satirical magazine Charlie Hebdo. Aimed at France's young people, frequent targets for conversion by Islamist extremists, the site was instantly popular; the video meant to counter Islamist recruitment has been viewed more than 826,000 times.
But not all of that attention is coming from French teenagers ready to join the neighborhood watch and stand against religious fundamentalism. An infographic describing the "tell-tale signs" of radicalization has been ridiculed as a more accurate description of a lazy weekend than of recruitment by the Islamic State militant group.
What are the signs? How may we best guard ourselves from the enemy within? Let's check out the infographic, titled "Jihadist Radicalization: The First Signs That Could Alert You."
1. They are suspicious of old friends.
And they stop hugging as much. Terrorists hate hugging.
2. They reject their family members.
Most terrorists have unresolved issues with their fathers. Mom's cool, though.
3. They suddenly change their eating habits.
Has Pierre stopped eating baguettes? He's probably a jihadist bent on global conquest.
4. They drop out of school or vocational training.
The DeVry Institute of Terrorism is an exception.
5. They stop listening to music.
To be fair, Stromae is pretty much the opposite of terrorism.
6. They do not watch television or go to cinemas.
The Interview was the final straw.
7. They stop playing sports.
(But they might hit the jungle gym, which is, according to the 9/11 Commission Report, really good training for extremism.)
8. They change their attire.
The French government is now scouting every Buffalo Exchange in the country.
9. They visit violent websites.
Watch out for Reddit, obviously.
All of France is rolling its eyes. "In fact, the campaign to #StopDjihadism isn't about identifying potential jihadists, it's about describing unemployed people," said one response. "The government invites you to be wary of those who do not eat baguettes," said another skeptically.
While the efforts of the French government are to be applauded (French teens have been specifically targeted as potential converts to the cause by Islamic State militants, even those from French or atheist backgrounds) this reductive infographic turns the complicated issue of religious and political radicalization into a shopping list of behaviors that nearly anyone can exhibit. Unless France wants to turn into post-9/11 America, where "terror alerts" volleyed so swiftly between yellows and oranges that the entire exercise became meaningless, it should tone down the alarmist rhetoric — at least where the baguettes are concerned.
h/t BBC