'SNL' Mocks Super Bowl Contenders Sherman and Lynch With Their Very Own Talk Show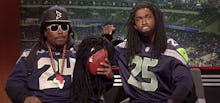 This week's pre-Super Bowl edition of Saturday Night Live parodied the increasing mess that is the NFL, with its cold open mocking the Seattle Seahawks' colorful media week. The skit features Jay Pharaoh as cornerback Richard Sherman, Taran Killam as head coach Pete Carroll and Kenan Thompson in a standout role as the notoriously purse-lipped running back Marshawn Lynch, who spent an entire press conference at this year's media day repeating he was only there "so I don't get fined."
Thompson's parody of Lynch is spot on. "Shoutout to Skittles," is pretty much all he's is willing to say. "Also, big ups to hats and glasses." Pharaoh's Sherman mocks those "who have already lost," like New York City Mayor Bill de Blasio, who shut down the city over Winter Storm Juno despite the fact that he's seen "bigger blizzards at Dairy Queen." The only real way to shut down a city is to put it in coverage against him.
Then he gave a mocking shout-out to Patriots quarterback Tom Brady and his allegedly deflated game balls, telling him this was what a "real football looked like":
The satirical Carroll is ultimately the only person who can get SNL's version of Lynch to comment, but only briefly on the punchline to a deliberately terrible knock-knock joke.
It's one of the more strange and meandering SNL cold opens, mirroring this year's bizarre NFL season. But the Seahawks would do well to hope Lynch and crew bring the same amount of energy to Sunday night's game as SNL did with this sketch. 
In another skit from Saturday night's episode, host J.K. Simmons took on annoying mascots outside the football arena, namely Microsoft's defunct talking paperclip. Comedians Key and Peele also did a Sherman and Lynch skit worth watching, in which Sherman can't stop talking about Oscar nominations and Lynch repeatedly mumbles about "biscuits and gravy." Good stuff.